Obama Pushing For Legislation That Might Have Sent Woodward & Bernstein To Jail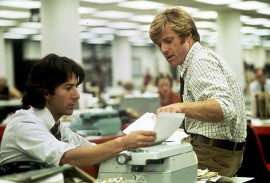 The press's love affair with President Obama (such as it is) may be due to hit a rough patch if Obama is successful in preventing new legislation from passing that aims to keep reporters who refuse to disclose confidential sources from going to prison. Yes, that's correct, Obama is against journalists being allowed to keep their sources confidential. Not all sources, mind you, just the ones leaking info about national security. From the New York Times:
The Obama administration has told lawmakers that it opposes legislation that could protect reporters from being imprisoned if they refuse to disclose confidential sources who leak material about national security, according to several people involved with the negotiations.

The administration this week sent to Congress sweeping revisions to a "media shield" bill that would significantly weaken its protections against forcing reporters to testify.
Here's what the legislation, sponsored by Charles Schumer and Arlen Specter, is looking to put in place:
The bill includes safeguards that would require prosecutors to exhaust other methods for finding the source of the information before subpoenaing a reporter, and would balance investigators' interests with "the public interest in gathering news and maintaining the free flow of information."
The administration, however, is not so hot on that idea and wants to make it so that "such procedures would not apply to leaks of a matter deemed to cause 'significant' harm to national security. Moreover, judges would be instructed to be deferential to executive branch assertions about whether a leak caused or was likely to cause such harm, according to officials familiar with the proposal."
This is tricky stuff. Reporters being able to protect their sources is obviously the key to a lot of important investigative reporting on the national and international level as much as anywhere else. On the one hand, the knowledge that they might be more easily revealed could easily prevent some highly placed sources from leaking information that is in the public's best interest to know about. Think Watergate. On the other hand, the knowledge that they could be more easily revealed could prevent highly placed sources from leaking damaging information a la the Valerie Plame affair, which eventually landed Vice President Cheney's chief of staff Scooter Libby in jail (but not before Judith Miller and Matthew Cooper were put through the ringer!). So yes, tricky stuff. That being said, perhaps always better to land on the side of more freedom of the press than less.
Obama officials meanwhile argue that they are merely trying to strike some middle ground so that highly placed insiders (perhaps acting on their own agenda) can't just run willy-nilly to reporters with super-secret intelligence with no fear of retribution. Needless to say reporter advocate groups are not happy. Time will tell whether the bill gets passed with or without the revisions. In the meantime, as a fun little exercise, try rereading the Times article except replace the phrase Obama administration with Bush administration, and then see how you feel about it.
Have a tip we should know? tips@mediaite.com