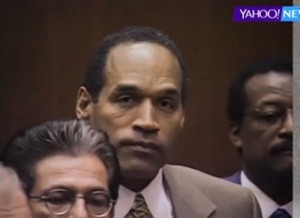 "O.J. is just a regular dude."
So says Jon Hawkins, a former inmate at the Lovelock Correctional Center — where O.J. Simpson has spent the past eight years. In an extensive new LA Times report on Simpson's life behind bars, several sources paint a picture of a man who was withdrawn at the beginning of his sentence, but one who seems to have adapted to his new surroundings, and now mixes easily with the rest of the prison's population.
"He's popular especially with the sports crowd," Hawkins said. "Guys go up to him and ask him what he thinks about current sports teams…He does his job and he goes to his cell."
One retired prison guard claims has a photo in his cell in which he's together with Nicole Brown Simpson. He also stays in contact with family and friends by phone, although it's unclear from the Times' story whether any or all of Simpson's four children are amongst those who keep in touch. His eldest daughter, Arnelle, declined to comment for the article.
There has been a renewed interest in Simpson following two critically acclaimed TV projects — FX's The People vs. O.J. Simpson miniseries, and ESPN's O.J., Made in America five-part documentary. Per the LA Times report, Simpson is potentially looking to cash in on this interest by resuming his autograph business.
But Fred Goldman will have something to say about that. Goldman is among the parties entitled to share in the $33.5 million civil judgment rendered against Simpson in 1997. Goldman is determined "to enforce the judgment so that Simpson doesn't profit from what he did," according to the article.
The Times reports that Simpson could be paroled as soon as next October. But if he is rejected, he may not be released until April 2022.
Check out the comprehensive report here, via the LA Times.
[image via screengrab]
–
Follow Joe DePaolo (@joe_depaolo) on Twitter
Have a tip we should know? tips@mediaite.com
Joe DePaolo - Senior Editor