New York Values: Redstate Reports Donald Trump Gave Nothing to Legit 9/11 Charities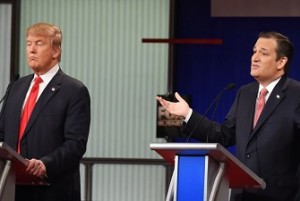 The media has been having a great old time shaming Ted Cruz over his "New York values" remark and Donald Trump's response to it, but now it looks like it may be Trump's turn in the barrel. Trump was awarded a devastating TKO at last week's debate when he cast Cruz's remark as an insult to the lives affected by 9/11, although others have assigned the jab a more coded meaning.
The tide might be changing here, though, because conservative website Redstate.com has dug up some reporting that makes Trump's outrage seem more opportunistic than sincere. Citing several doumented sources, the site claims that Trump never donated a single cent to 9/11 charities:
Take, for example, this 2003 report from The Foundation Center on the "unprecedented outpouring of charitable support that followed the September 11, 2001, terrorist attacks." On this list of institutional donors you will see no listing for the Donald J. Trump Charitable Foundation. That's because he made no donation to any of the listed charities set up for victims and families of 9/11.

This donation dearth includes, and this will be important later in the article, the American Red Cross Liberty Disaster Relief Fund, specifically formed for 9/11, to which Trump's charity also gave zero dollars.

Of course, even if the Foundation had taken part, it wouldn't have amounted to much. According to this report from Ben Davis, Trump the "ardent philanthropist" doesn't even pony up for his own charity, having given only $3.7 million of his own money. Ever.
The site goes on to explain that Trump did give $1,000 to one related organization, a junk Scientology project called the New York Rescue Workers Detoxification Project.
Of course, there's also no evidence that Cruz ever gave to a 9/11 charity, but then again, he's not the one waving the bloody shirt. In 2012, a Texas news station did report that Cruz had donated just $28,000 of his $3.5 million income for 2009 and 2010 to charity, but that hardly seems like an effective rejoinder.
Have a tip we should know? tips@mediaite.com