Mark Levin Goes Off on Trump's 'Stupid' Attacks on Cruz: It's 'An Attack on Us'!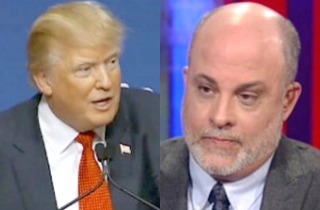 After giving Donald Trump a friendly warning about his attacks on Ted Cruz, Mark Levin got pretty fired up on his radio show tonight about how Trump keeps attacking his rival on "stupid" and unimportant issues.
Levin went off on Trump last month for his attacks on Cruz, and tonight he proclaimed, "I'm sick and tired of stupid issues!"
Bringing up the "nonsense" question of Cruz's citizenship in particular, Levin said, "Whatever candidate tries to draw us into these arguments and these debates that are mindless, that are useless, that are not gonna save this republic, they're not gonna affect the debt… then I call them out!"
He said that intelligent people understand exactly what Cruz meant by "New York values," and was appalled that Republicans like Trump are using 9/11 "like liberals use 9/11!"
But most important here to Levin was that for years, Cruz has proven himself to be a principled conservative who has won fights against the establishment. And so he finds it a little hard to believe accusations from Trump that Cruz is "nasty" and "bought off by the banks."
He even went so far as to say that attacks like that on Ted Cruz are "an attack on us"––meaning true conservatives––as a whole.
"I'm all in favor of duking it out," Levin said, "but I want them to duke it out in a way that helps we the people."
Listen above, via The Mark Levin Show.
[image via screengrab]
— —
Follow Josh Feldman on Twitter: @feldmaniac
Have a tip we should know? tips@mediaite.com
Josh Feldman - Senior Editor