Newspapers That Endorse Clinton 'Pay the Price' by Losing Readers and Valuable Subscriptions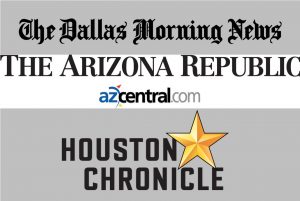 In this unprecedented election year, typically right-leaning editorial efforts across the nation have found themselves in the unique position of supporting a Democrat over a Republican candidate for President.
We've seen it with the likes of the Dallas Morning News, who wrote emphatically, "There is only one serious candidate on the presidential ballot in November." The editorial page editor of The Arizona Republic told the New York Times this week, "We're feeling the weight of our history," given that fact that since its conception in 1890 it has never — never — endorsed a Democrat over a GOP candidate.
Papers like the Cincinnati Inquirer and the Houston Chronicle also threw their support behind the former Secretary of State, the latter writing, "These are unsettling times that require a steady hand." That hand, unsurprisingly, does not belong to Donald Trump.
But as the New York Times wrote this morning, many of these newspapers are also paying the price for going against the grain and using its editorial voice in the name of democratic values. Mike Wilson, editor for The Dallas Morning News, revealed recently, "Certainly, we've paid a price for our presidential recommendation."
Phil Boas of The Arizona Republic admitted that he expected, "a lot of cancellations," due to their decision, indicating the hit that other papers in their position have taken this year as a result of their endorsements for Clinton.
But ultimately, the financial hit that any of these papers take doesn't seem to have been a consideration while making their choice.
Boas admitted, "It was more of a curiosity. We know we're doing the right thing. We feel very good about this decision."
He continued, "Trump through the primary and into the general did a half dozen things that we believe would have been disqualifiers in years past… We think that we are being traditionalists here. We're saying we're not willing to compromise our values." He admits however that the severity of their decision to endorse a Democrat while not contentious was not in full agreement either.
"We're never in unison on anything, but it wasn't a difficult thing," Boas noted. "It was the kind of thing that just evolved over time."
[h/t NYT]
Have a tip we should know? tips@mediaite.com