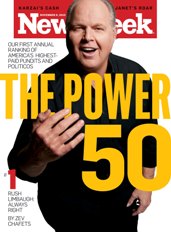 Newsweek has decided to come out with a first annual ranking of "pundits and politicos" called the "Power 50", because no one has every come up with the idea to rank pundits and politicos before.
Anyway, #1 – Rush Limbaugh – graced Newsweek's cover for their Election 2010 issue.
Here's some of the profile of Limbaugh, which is by his biographer, Zev Chafets:
His annual income is greater than the combined salary of the entire U.S. Senate (and you can toss in a few dozen congressmen and cabinet secretaries for good measure). "I certainly don't derive my living by what goes on in Washington, and I'm not dependent on what happens there," he boasted to his radio audience in September. "The further away that city is from my life, the more prosperous I am."
Chafets also asked Limbaugh to rank potential 2012 GOP candidates on a scale of 1-10 (10 being the best). "He gave Huckabee a 4; Pawlenty, Gingrich, and Romney 6's; Barbour a 7. Palin and Christie each scored an 8," wrote Chafets.
The rest of the top spots on the Power 50, which ranks solely on wealth, shouldn't come as a surprise: the Fox news trio of Glenn Beck is #2, Sean Hannity is #3 and Bill O'Reilly #4. Jon Stewart is #5, followed by Sarah Palin.
Other interesting finishes: Keith Olbermann at #9, Arianna Huffington at #15, and Al Gore at #31. This was fun – the team ranked recently departed Newsweek Jon Meacham at #33 and $2 million a year, but added an asterisk: "disputed our estimates, but declined to provide further information on the numbers." Good times over there at Newsweek…
—–
» Follow Steve Krakauer on Twitter
Have a tip we should know? [email protected]