Italy's Silvio Berlusconi: It's Better To Like Beautiful Young Girls Than To Be Gay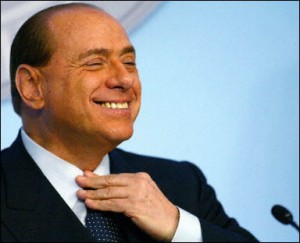 As you all (hopefully) make your way to the polling booth today, you may find yourself disappointed with the crop of American politicians in front of you. However, to let you know that it could be worse (or at the very least, there's jerks on every shore), let us present to you the following quote from Italy's Prime Minister Silvio Berlusconi. The 74-year-old has gotten in trouble recently after allegedly paying a 17-year-old girl €7,000 after she attended parties at his house. Responding to calls for his resignation, Berlusconi pointed out with a shrug, well, at least he's not gay. Touche, sir. Touche.
From Ireland's RTÉ News:
"[Berlusconi] refused to apologise for his fondness for young women and denied doing anything improper, after the case of the girl known as Ruby filled Italian newspapers last week and opposition lawmakers called for him to resign.
'As always, I work without interruption and if occasionally I happen to look a beautiful girl in the face, it's better to like beautiful girls than to be gay,' he told a meeting at a motorcycle industry show in Milan.
'You should be completely reassured about the government and about the fact that it's a government that still has a majority that intends to govern until the end of its term,' he said."
Meanwhile, Bloomberg gives the quote the slightly classier translation, "It's better to be passionate about beautiful women than gay men." Either way, very few American politicians would be dumb enough to say something that stupid. At least no one at that high a level. So…uh…USA! USA! USA!
(h/t Breaking News)
Have a tip we should know? tips@mediaite.com