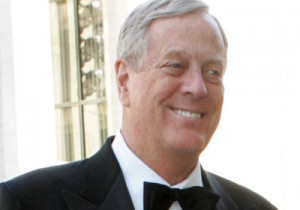 It shouldn't come as a surprise to anyone at this point that businessman David Koch isn't exactly a huge fan of Barack Obama. Case in point: The billionaire won't even give Obama at least partial credit for the capture of Osama bin Laden. To put that into some sort of context, do recall that even Sarah Palin – obviously no friend of Obama's – and conservative radio host Rush Limbaugh both decided to give the President at least some credit for his role in capturing bin Laden.
New York magazine reports that, during the Society of Memorial Sloan-Kettering Cancer Center Spring Ball, Koch made his thoughts about Obama's role in the capture explicitly known:
He just made the decision, it was obvious where the guy is. He was one of the worst terrorists organizing attacks on the United States. I mean, no president in his right mind would not approve that decision to go eliminate him. So he's getting a lot of recognition and his polls have jumped up, but his decision was the easiest of them all. The real hard work was done by the intelligence and the SEALs.
Koch also called the President a "hardcore socialist" and "scary." To which scary hardcore socialist Lawrence O'Donnell may have responded, "Um, hello. Remember Tora Bora?" To which Ann Coulter, dog owner, may have replied, "Um. Remember Bill Clinton?" and then everyone would just fight and yell and argue and forget that the U.S. just SUCCESSFULLY TOOK DOWN A VERY DANGEROUS TERRORIST, COME ON YOU GUYS!
Where is Glenn Beck and his tray of Happy America Cookies when we most need them? Everyone please just relax and have a cookie.
h/t NY Mag
Have a tip we should know? tips@mediaite.com