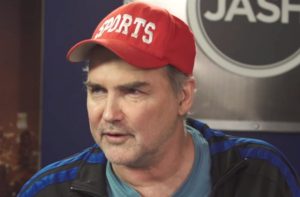 The great comedian Norm Macdonald, one of the biggest names to come out of SNL, has some thoughts on the current state of the long-running show's political comedy.
Macdonald gave an interview to Vulture on his new book, Based on a True Story: A Memoir, and in reaction to a question about SNL these days, MacDonald said, "I don't like agenda comedy. I guess I could say that."
He said there's something "distasteful" about the political imbalance, warning that if in its upcoming fall season "Donald Trump is displayed as an idiot all the time and Hillary's not, then it shows they're out of touch with what people think, and it's just not fair."
Macdonald, who shared an amusing anecdote when he was on The Tonight Show the same night as Trump, rolled his eyes at people criticizing Jimmy Fallon for not getting tougher on him and said that while he's not a fan of Trump's, people are exaggerating just how bad he is:
I don't think he's as dangerous as everyone is trying to pretend. I don't want him to be president, but I don't think simply by being elected he would be any more likely to start a war any more than Hillary would. The Democrats didn't exactly get lucky with Hillary. My God almighty, she's the only person in the world who'd be at risk of losing to Donald Trump. Biden must be going 'why the fuck didn't I run?' But I definitely don't want Trump to be president. You've got to be able to apologize and you've got to be able to say you're wrong. You've got to have some humility. You know I was on Fallon the same night as Trump?
[image via screengrab]
— —
Follow Josh Feldman on Twitter: @feldmaniac
Have a tip we should know? tips@mediaite.com
Josh Feldman - Senior Editor