North Korean Officials Threaten London Hairdresser for Making Kim Jong-Un Joke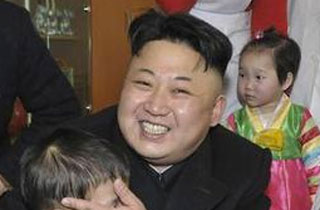 Last week, a hair stylist put up a cheeky poster of Kim Jong-Un and his iconic hair in the window of his London salon. "Bad hair day?" it read, and advertised 15 percent off men's haircuts throughout the month of April.
But such a slanderous poster offended the North Korean representatives of the Supreme Leader, whose embassy, unbeknownst to the salon, was within walking distance of the M&M Hair Academy.
The owner, Mo Nabbach, told The Guardian that soon after the poster went up, two disgruntled Asian men in suits came to the salon and started taking pictures and notes. "I think they are North Korean officials," he said to his client, a suspicion confirmed when the men came in and began interrogating Nabbach:
He said the pair told him the poster was disrespectful and must come down. "They said: 'That is a country's national leader.' I explained to them we often used pictures of celebrities, Lady Diana, Victoria Beckham. I told them: 'Listen, this is not North Korea. This is England.'

"They asked for my name and I told them they would have to get their solicitors for that."

Nabbach said he asked them to leave, and later reported the incident to his local police station.
The Metropolitan police confirmed the incident, adding that they'd been contacted by North Korean officials, but wouldn't charge anybody involved. The North Korean embassy said something along the lines of No Comment, Hail our Glorious Leader and Death to Decadent Westerners with Their Crazy Haircuts. (We'd like to imagine.)
No one has asked for the haircut.
[The Guardian]
[Image via Newscred]
—
>> Follow Tina Nguyen (@Tina_Nguyen) on Twitter
Have a tip we should know? tips@mediaite.com