Beck: If You Support Violence at All, 'Unsubscribe' and 'Unfriend Me' Right Now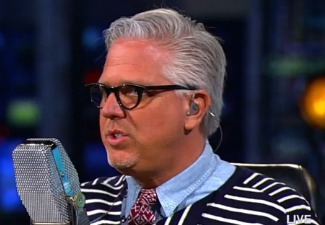 Glenn Beck has been getting some flak from fans on Facebook (check some of the comments here for a sampling) over his coverage of the Cliven Bundy case, which he's approached which a degree of skepticism, especially where the more violent elements of the Bundy supporters are concerned. Beck responded on his radio show Tuesday, making it clear that anyone who believes violence and insurrection is what's needed shouldn't consider themselves a fan of his.
Beck made it clear he believes in the Second Amendment and the right to defend yourself, but said, "I believe more than in my rights I believe in the responsibilities we have to God, and God does not call anyone to anger."
Beck said the criticisms have only come from a "vast minority of this audience," and he acknowledged their anger is justified, but says fans who really know him know that he doesn't believe in anger or violence as virtues.
"If you are somebody that says 'I'm for violence, I am angry and I'm not going to take it anymore, and I'm going to act on that anger,' then I want you to go to my Facebook page and I want you to unfriend me. I want you to go to my newsletter page and I want you to unsubscribe. I want you to go to TheBlaze TV and I want you to cancel your subscription today."
Watch the video below, via BlazeTV:

[photo via screengrab]
— —
Follow Josh Feldman on Twitter: @feldmaniac
Have a tip we should know? tips@mediaite.com
Josh Feldman - Senior Editor