NPR Got the Editors of Spy Back Together to Continue Their Decades-Long Ridicule of Trump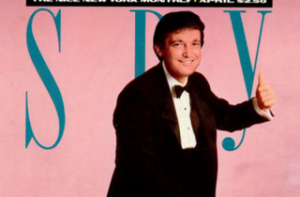 Did you think the kerfuffle over Donald Trump's supposedly small hands was a new thing? Did you think it all originated with Marco Rubio? You're about 30 years too late, because there is a set of journalists who have been taking swipes at Trump's hands — and the rest of him — since the 1980s.
Graydon Carter is now the editor of Vanity Fair and Kurt Andersen hosts Radio360, among other things, but in 1986, they were the team who launched Spy. The satirical magazine was known for being funny and well-researched. Very early on, it took aim at Trump for being "the brash embodiment of a crass age," as NPR puts it.
Carter and Andersen were the creators of Trump's "short-fingered vulgarian" nickname, and though it has persevered and made appearances in popular media all these decades later, they haven't appeared and discussed Trump together in years. Until now! NPR reunited them to talk about Trump and how much he hated them and their publication.
Carter corroborated a story told by John Oliver in his 20-minute hit on Trump last week:
[Trump] blames me for this more than Kurt. He'll send me pictures, tear sheets from magazines, and he did it as recently as [last] April. With a gold Sharpie, he'll circle his fingers and in his handwriting say, "See, not so short." And this April when he sent me one, I just — I should have held on to the thing, but I sent it right back by messenger with a note, a card stapled to the top, saying, "Actually, quite short." And I know it just gives him absolute fits. And now that it's become sort of part of the whole campaign rhetoric, I'm sure he wants to just kill me — with those little hands.
NPR prefaced their interview with, "No journalists have followed Trump more closely. No journalists have angered him more often." As someone who is viewed — at least by National Public Radio — as somewhat of a Trump expert, Carter's admission that Trump's "longevity on this road [to the presidency] is absolutely mystifying" was especially noteworthy.
For more, check out the audio above or a short transcript here.
[image via screengrab]
For more from Lindsey, follow her on Twitter.
Have a tip we should know? tips@mediaite.com