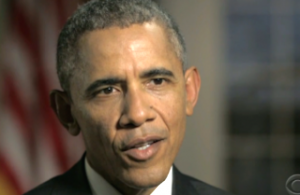 President Obama is traveling to Alaska this week, and today it was marked by the announcement that the tallest mountain in North America, currently named Mount McKinley, will be changed to its original name Denali.
Alaskan natives had called the mountain by that name before it was named after President William McKinley. The state of Alaska has used the name Denali for years, and finally the federal government is following suit.
But some hardcore McKinley fans––okay, more accurately, Republicans from McKinley's home state of Ohio––weren't particularly happy by the change.
Ohio Governor and presidential candidate John Kasich ripped Obama for overstepping his bounds:
As POTUS once again oversteps his bounds, Ohio knows every carnation is a monument to our own William McKinley. -John pic.twitter.com/GvQfqnIKOh

— John Kasich (@JohnKasich) August 31, 2015
And Ohio Senator Rob Portman weighed in as well:
I'm disappointed with the Administration's decision to change the name of Mt. McKinley in Alaska (1/5)

— Rob Portman (@senrobportman) August 31, 2015
Pres McKinley was a proud Ohioan, and the mountain was named after him, as a way to remember his rich legacy after his assassination (2/5)

— Rob Portman (@senrobportman) August 31, 2015
The naming of the mountain has been a topic of discussion in Congress for many years (3/5)

— Rob Portman (@senrobportman) August 31, 2015
This decision by the Administration is yet another example of the President going around Congress (4/5)

— Rob Portman (@senrobportman) August 31, 2015
I urge Admin 2 work w/ me 2 find alternative ways 2 preserve McKinley's legacy somewhere else in the natl park that once bore his name (5/5)

— Rob Portman (@senrobportman) August 31, 2015
And even Ohio native John Boehner released a statement on the matter:
There is a reason President McKinley's name has served atop the highest peak in North America for more than 100 years, and that is because it is a testament to his great legacy. McKinley served our country with distinction during the Civil War as a member of the Army. He made a difference for his constituents and his state as a member of the House of Representatives and as Governor of the great state of Ohio. And he led this nation to prosperity and victory in the Spanish-American War as the 25th President of the United States. I'm deeply disappointed in this decision.
For what it's worth, the three Alaskans in Congress––which includes two Republicans––all embraced the name change.
And if there are some of you thinking "Didn't I see something about this on TV recently?", it may have been the following Daily Show segment from July, which you can watch here, via Comedy Central:
[h/t Politico]
[image via screengrab]
— —
Follow Josh Feldman on Twitter: @feldmaniac
Have a tip we should know? tips@mediaite.com
Josh Feldman - Senior Editor