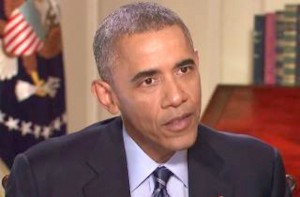 President Barack Obama said he is personally hurt when people label him anti-Semitic for expressing positions that run opposite to that of the Israeli government.
"There's not a smidgen of evidence for it, other than the fact that there have been times where I've disagreed with a particular Israeli government's position on a particular issue," Obama said in an interview with Jewish publication Forward. "And I've said before, and I will continue to say, that if you care deeply about Israel, then you have an obligation to be honest about what you think, the same way you would with any friend."
The most prominent point of contention as of late between Obama and Israeli Prime Minister Benjamin Netanyahu is over the nuclear agreement that was reached earlier this summer among Iran, the United States and five other world powers. Obama has faced charges of being anti-Semitic from some on cable news and even a presidential candidate over his discord with Israel on certain policy initiatives.
In the interview, Obama added that true friends don't simply agree with each other all the time for the sake of agreeing. "We don't do anybody, any friend, a service by just rubber-stamping whatever decisions they make, even if we think that they're damaging in some fashion," he said.
The president spent most of the interview answering questions about the merits of the nuclear agreement. Acknowledging the overwhelming support he has received from the Jewish community throughout his political career, the president said he is even "more offended" when Jewish members of his administration are "attacked."
"You saw this historically sometimes in the African American community, where there's a difference on policy and somebody starts talking about, well, you're not black enough, or you're selling out," Obama said, adding that he doesn't believe in impugning the motives of those who disagree with him. "And that, I think, is always a dangerous place to go."
Obama also defended himself against those who said he called critics of the deal "warmongers": "What I've said is that if we reject the deal, the logical conclusion is that if we want to prevent Iran from getting a nuclear weapon, military strikes will be the last option remaining at some point."
Read the full interview transcript here.
[Image via screengrab]
— —
>>Follow Andrew Desiderio (@desiderioDC) on Twitter
Have a tip we should know? tips@mediaite.com