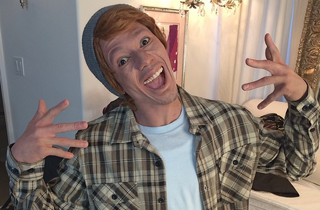 Everyone of all races, warm up your awkward faces: this is actor/rapper/comedian/Mariah Carey accessory Nick Cannon in whiteface makeup!
According to his Instagram, White Nick Cannon is actually Nick Cannon playing a character known as "Connor Smallnut:"
Connor Smallnut loves dealing in white stereotypes. He, like all white people, abuses hashtags:
It's official… I'm White!!! #WHITEPEOPLEPARTYMUSIC #Wppm in stores April 1st!!!!!!Dude Go Get It!!!Join The Party!!!! #GoodCredit #DogKissing #BeerPong #FarmersMarkets #FistPumping #CreamCheeseEating #RacialDraft "Bro I got drafted!!"
And Connor Smallnut, like all white people, is utterly fascinated by rap music:
Why are you wearing whiteface, Nick Cannon? Is it for Eddie Murphy-style social commentary? Is it for a movie role? Is it for any possible reason that would make this not awkward?
Nope. It's to promote his newest album, White People Party Music. We were hoping that it would be a sharp, satirical album commenting on something like "white commercial appropriation of black music" or something like that. But no. It's just terrible tracks like the one leaked below, called "Pajama Pants." It's about white girls twerking.
However, the whitest thing about Nick Cannon's stunt isn't his knit cap or his plaid shirt or his overuse of the word "bro." It's his use of the Robert Downey Jr. Blackface Defense, wherein one brings up the actor's role in Tropic Thunder as a white actor wearing blackface, to justify his own race makeup!
That's the whitest thing you did, Nick Cannon.
[h/t Jezebel]
— —
>> Follow Tina Nguyen (@Tina_Nguyen) on Twitter
Have a tip we should know? tips@mediaite.com