Oops: Chipotle Forgot to Include Latino Writers in Its Literary Cup Campaign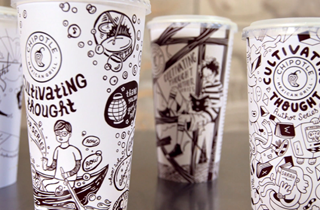 At first glance, you'd laugh at pretentious Chipotle being snobby again with their latest campaign, spearheaded by author Jonathan Safran Foer, to publish original works of literature on its cups and bags to entertain their customers whilst they dine upon burritos.

Luminaries like Toni Morrison and Michael Lewis participated, as well as academics like Steven Pinker and comedians like Sarah Silverman, Bill Hader, and Malcolm Gladwell. (Face it, Gladwell is a joke.) But a writer for the Orange County Weekly pointed out a more embarrassing fact: Chipotle, a restaurant that serves Mexican food, didn't include any Latino writers in their campaign.
"Not Pulitzer Prize-winning Junot Diaz, who also won a James Beard award for one of the finest pieces of food writing I've ever read," wrote Gustavo Arellano. "Not the doña of Chicano literature, Sandra Cisneros. Not best-selling author Luis Alberto Urrea. Not Tex-Mex loco Dagoberto Gilb. Not any other number of Latino authors who could easily contribute a story or two that would be appicable a Mexican-food chain. Judd Apatow made the list–but not one Latino."
Arellano placed the responsiblity on Foer, who was responsible for picking the list, and in doing so delivered a particularly harsh burn: "An ex of mine…pushed me to read Everything is Illuminated, which I found too precious and twee and obviously the product of someone whose biggest problems are self-imagined." But aside from the burns, Arellano identified a legitimate cultural problem:
"In Foer's world, Latino authors simply don't exist and simply don't appeal to his Chipotle worldview of what the chain is advertising as 'Cultivating Thought'–the only Mexican cultivation the two approve for their beloved burritos is the tomatoes harvested by Florida pickers."
We can't add any more to this — good one, Gustavo.
[OC Weekly]
[Image via screenshot/Chipotle]
—
>> Follow Tina Nguyen (@Tina_Nguyen) on Twitter
Have a tip we should know? tips@mediaite.com