Oprah? We Hardly Knew Yah! Risque Details Emerge From Unauthorized Biography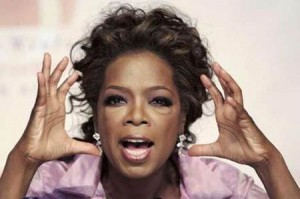 We've previously reported that unauthorized biographer Kitty Kelley had claimed to Matt Lauer how many broadcast journalists were avoiding the publicity tour of her new (and allegedly salacious) tome on media mogul and daytime talk icon Oprah Winfrey. Well now that details from the book have emerged, perhaps it's no wonder that Barbara Walters, Larry King and David Letterman have all stayed away.
As we've mentioned before, Kelley is rather notorious for her unauthorized style of biographies, and her recent subjects have included Elizabeth Taylor, Frank Sinatra and Nancy Reagan (among others). Her new book on Oprah has plenty of shockers in store; writing for the NY Post, Jeremy Olshan reports:
Winfrey's relationship with longtime "love" Stedman Graham, her reputed dirt-poor upbringing in rural Mississippi, her rumored lesbian crushes on women such as Diane Sawyer — all are stories she has manipulated for decades in the name of sensational ratings, according to writer Kitty Kelley's latest unauthorized biography "Oprah."

The much-anticipated book details how:

* Winfrey concocted stories about sexual abuse she suffered as a child — and grossly exaggerated the poverty she was brought up in.

* She went to great lengths to conceal her "lesbian affairs" — including hefty payoffs — and publicly attached herself to Graham to appear more normal to her audience of housewives.

* She lavished romantic gifts — including a diamond toe ring — on ABC talking head Diane Sawyer.

* Winfrey sold her body to earn extra money and has even described herself as a teen "prostitute."

* She doesn't know the true identity of her biological father.

* Her relationship with her own mother is so cold that Winfrey won't even let the older woman have her phone number.
Kelley has made clear that she is hoping that this book will appeal to the millions of hyper-loyal fans of Oprah, who may be looking for the daytime queen's reaction to this book – and all of the alleged secrets that are revealed – to get some cues. In fact, watching that part of the narrative unfold will be a very interesting sub-plot to keep an eye on.
Either way, expect to hear a lot more about Kitty Kelley, Oprah and this book for the coming weeks.
Have a tip we should know? tips@mediaite.com