Optics-Challenged Obamas Decide Dining at Restaurant Charging $500K for Membership a Good Idea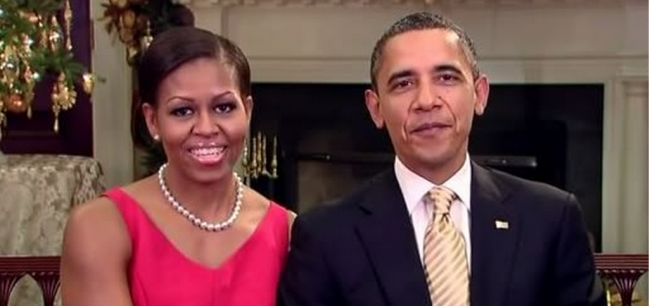 Back in September, President Obama said this to Chuck Todd in a Meet the Press interview when the topic of optics came up:
"Part of this job is also the theatre of it. A part of it is, you know, how are you, how, how are you, well, it's not something that — that always comes naturally to me. But it matters. And I'm mindful of that."
Much of the theatre for a president invariably in campaign mode is self-produced. It started that magical night for Democrats back in August of 2008 in Denver and a stage surrounded by Greek columns. Conservative media (enviously) griped about the optics being too over top, the grand theatre of it all, but the visual did elevate candidate Obama into a larger-than-life figure, as it did during a speech in Berlin before more than 200,000 gathered at Victory Column in the city's Tiergarten Park one month prior.
Fast forward to 2014, where the president was roundly criticized–even by liberal media–over playing golf just 15 minutes after making a statement regarding beheaded American journalist James Foley. The optics around that partially dominated the news cycle post-Labor Day week, which led to Chuck's question on optics on Meet that week.
All of that said, it was surprising to see that a president supposedly mindful of the theatre of the job decided that dining with the First Lady at a restaurant reserved for the richest one-percent of the richest one-percent last night was somehow a good idea. Just how expensive is this joint? Well, at the low-low price of $500,000, you can join as a member. Here's how the restaurant describes some of the benefits on its website:
At Vintage Cave Honolulu, one can enjoy exceptional food and wine at the hands of gifted masters of the culinary arts. 'Chef's recommendation' commands a gravitas guaranteed to satisfy the most discerning palate. Seasoned sommelier's conduct the process of pairing wine and food with true finesse and style. Secure in the natural embrace of the cave-like environment, guests are encouraged to relax, 'hit reset' and escape the ordinary.
Of course, the president didn't buy a membership, but did proceed with the prix fixe menu at $295.00 per person. According to Honolulu Magazine, "The total bill for two (at the restaurant), with wine, will approach $1000.00." To provide context around what a grand gets those in the African-American community these days, the Bureau of Labor Statistics reports the average black man earns $679.00 per week in the U.S., while black women earn $608.00 weekly (BLS reports white men and white women earn an average of $896.00 and $733.00, respectively). But remember, only Republican candidates looking to protect their wealthy friends with tax breaks are rich and self-absorbed…
The president knows dining at a venue like this looks bad. He knows it will be reported by members of the press pool. Just ask Mitt Romney how important image control is: The guy decided to include a car elevator in the construction of a new house in Southern California that was discovered by the press during the 2012 campaign. That idea didn't make him look out of touch or elitist or anything…
The restaurant the President is eating at tonight offers $500,000 "memberships" http://t.co/b4bfTDVi8n

— Zeke Miller (@ZekeJMiller) January 2, 2015
But as we've seen from sweeping executive orders on immigration to delaying implementing the employer mandate on Obamacare (which most legal scholars say is illegal), this is a Commander-in-Chief who is the unappetizing combination of arrogance and apathy.
And in the end, Mr. Obama will do whatever he likes wherever he likes…hypocrisy, poor optics and the theatre of the absurdly-priced be damned.
— —
>>Follow Joe Concha on Twitter @JoeConchaTV
Have a tip we should know? tips@mediaite.com