Pakistani Taliban Leader Kinda-Sorta 'Apologizes' To Schoolgirl They Nearly Killed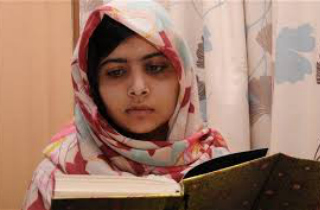 I'm sorry for shooting you, Malala, but you deserved it.
That is apparently the message of a senior leader of Pakistan's Taliban, who on July 15 sent the schoolgirl and acclaimed education activist a highly unusual letter in which he alternately apologizes and rationalizes his organization's monstrous attack on her life. The young teenager, a celebrated activist for girl's education in Pakistan, was shot in the head by Taliban assassins on her school bus last October and spent many months in England's Queen Elizabeth Hospital recovering from her severe injuries.
Malala Yousafzai rose to prominence through her blogging and media appearances promoting education despite the Taliban's vicious opposition, and she has been celebrated worldwide for her courage–including becoming the youngest nominee in history for the Nobel Peace Prize.
And apparently her conviction has even moved one of her would-be murderers, senior leader Adnan Rasheed. In his strange letter, which he asserts is his own personal view rather than that of the Taliban, he says that he was "shocked" by the attempt on her life and that he had "brotherly" feelings for her driven by their shared tribe. "Taliban attacked you," he says, but he doesn't know whether it was "islamically correct or wrong" [sic] and he wishes he could have "advised" her from prison.
However, the letter veers towards the inexplicable as he says that Malala was not "attacked" for "going to school" or being an "education lover," despite the fact that the Pakistani Taliban (TTP) has shuttered girl's schools throughout her home region of Swat during their rule in the area. "There were thousands of girls who were going to school and college before and after the Taliban insurgency" he writes, so " why were only you on their hit list???" Apparently, because the TTP was genuinely frightened of the schoolgirl, who he claims was attacked "for [her] sword" instead of her pen.
Despite his tween girl's grip on the rules of punctuation, Rasheed continues on attempting to justify the attempted killing of an unarmed young girl, even saying that her concerns on education are part of a larger conspiracy to elevate "Jews" and "freemasons" and that she should come back to Pakistan–despite the TTP's strong assurances that they still intend to kill Malala and her father for standing up to the Taliban–and "adopt the Islamic" culture and "study" the Quran.
The most puzzling question seems to be why Rasheed even bothered to compose and send this letter, other than perhaps a crisis of conscience trying valiantly to overcome an ingrained and disconnected worldview.
Read the letter in full here, courtesy of Channel 4.
Have a tip we should know? tips@mediaite.com