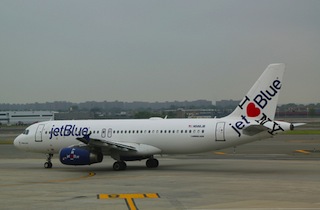 An argument between a Jewish woman and a (supposedly) Palestinian woman aboard a JFK-bound Florida several weeks ago — one that resulted in the Jewish woman being booted from the flight — just got more interesting: It turns out the Palestinian woman was Jewish as well.
The fight began when Dr. Lisa Rosenberg of Queens (hey!) was approached by another passenger after a loud phone conversation she'd had on the then-burgeoning Israeli-Palestine conflict. The fellow passenger said she was Palestinian and was offended by Rosenberg's remarks.
Things got ugly. Rosenberg later said the woman had called her a "Zionist pig," and accused Jet Blue of removing her because she was Jewish; according to the airline, she was removed after she claimed the other woman had explosives in her bag.
Anyhoo, the woman who identified herself as Palestinian confessed to Rosenberg (and, natch, to the Post) last week that she was Jewish as well. "I told you at the time I was Palestinian because I wanted you to stop your rant," she said. "If I said I was Jewish, you wouldn't have stopped. I shouldn't have said it, but I did."
She also rejected the accusation that she called Rosenberg a "Zionist pig," allegedly stating, "I'm more Zionist than you'll ever be. My third cousin was [former Israeli Prime Minister] Menachem Begin."
Rosenberg is still demanding an apology from JetBlue for removing her.
[h/t New York Post]
[Image via Leonard Zhukovsky / Shutterstock.com]
——
>> Follow Evan McMurry (@evanmcmurry) on Twitter
Have a tip we should know? tips@mediaite.com