Palin Complains About Invasion Of Privacy In Sarah Palin's Alaska's First Ep [Updated]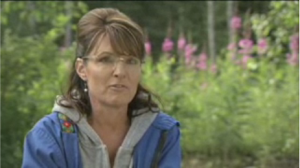 Everyone's soon-to-be favorite reality show, Sarah Palin's Alaska, premieres on November 14. For a time yesterday, though, the first episode of the show was already up on TLC's website—long enough for Sam Stein at the Huffington Post to take a look at it. Sam Stein at the Huffington Post, though, couldn't wait that long. He's already watched the first episode—and pointed out one moment of particularly delicious irony contained in it: Palin complaining about "an invasion of our privacy" to the cameras recording her every move for a TV series.
In the clip, Palin is discussing Joe McGinniss, the reporter who made headlines when he rented the house right next door to the Palins this spring. McGinniss, who is writing a book about Palin, dismissed Palin's angry rebuke of him as "hysterical" in May. Here's what she has to say about him on the show:
"Our behavior has certainly changed this summer because of this new neighbor," she says at the show's onset. "I think it is an intrusion, an invasion of our privacy and I don't like it." Palin later adds, "It's just none of his flippin' business."
Todd Palin, too, slams McGinniss: "[There's] a new neighbor next door who is writing a hit piece on my wife. I mean, life is about being productive, but these people want to seek and destroy."
Sure, McGinniss's actions were unnecessary at best and incredibly creepy at worst. Either way, Palin's comments make us want to suggest to her that if she really cares about her family's privacy, maybe she shouldn't have signed up to have them recorded for a reality show. We have reached out to TLC to see why the clip was removed — but Stein's negative post could have had something to do with the decision.
Update: According to a representative from TLC, the episode was never on their website in the first place, despite Stein's claim. "The episode was sent to reporters in an E kit for review purposes only," she wrote us in an email. "Unfortunately Huffington Post chose to post it, so we had to disable the link."
Have a tip we should know? tips@mediaite.com