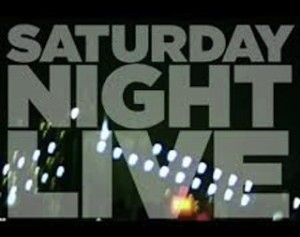 Who: Seth Meyers, John Mulaney, Marika Sawyer, Colin Jost, Erik Kenward, Bryan Tucker, Chris Kelly, moderated by Steve Gaydos
What: "Live from New York… A Discussion with the Saturday Night Live Writers"
Where: Paley Center for Media
When: November 13, 2011
Thumbs: Up
One of the great things about Saturday Night Live is that, even though it's in its 37th season, every episode delivers fresh new sketches and comedy. The same can be said for panels covering the show. We've previously heard head writer Seth Meyers discuss the show at another panel, and recently covered Jason Sudeikis moderating another, but the entertaining material we got on Sunday afternoon from the show's team of writers was all brand new.
The show's production schedule and process are well-documented, yet always worth rehashing for the audience on hand. A team of 15 writers (9 men, 6 women); Wednesdays are the key day when sketches are accepted or declined; it's a loose environment that allows for creativity and collaboration; Lorne Michaels is a supportive boss; and, yes, it's all performed live. Changes can occur on the fly leading up to the show – "the script department hates us the most," joked Meyers.
Topical sketches have a greater chance of making it onto the show, the writers say, but that's never a guarantee. Sometimes the time that news breaks can impact whether – or how – SNL tackles a story. Marika Sawyer pointed out that last week Herman Cain benefited from two bigger stories (Rick Perry's gaffe, Penn State scandal) overshadowing the sexual harassment charges against him. They have to guess on Monday afternoon what people will be talking about later in the week; nevertheless, they wind up writing new material with what's happened over the course of the week.
They rely heavily on the audience at dress rehearsal on Saturday evening to telegraph what's working and what's missing the mark. Their approval is reflected through their ratings – which the writers claim doesn't influence them – but another gauge  is Internet reaction. The writers say that SNL was made for YouTube well before YouTube even existed. After all these years, it continues to connect with new viewers and to cater to the times.
What They Said
"If it dies in that room, the last thing you want is for it to go and die in front of America."
– Seth Meyers says that the meritocracy of the writers' room can save them all embarrassment

"Lorne empowers writers to produce the piece… it helps make your vision come to life."
– Bryan Tucker and the rest hold their boss in high regard
"You don't know how to write for ratings, really."
– Colin Jost answers only to the comedy gods
"Everyone cross-pollinates, which is new. People collaborate with each other.
– John Mulaney believes this cast has good camaraderie
What We Thought
Steve Gaydos did a fantastic job keeping the conversation moving, making the most of a large panel, and encouraging the audience to participate (squeezing in a remarkable 15 questions during the Q&A). He's a veteran moderator, as he indicated at the top of the panel, and it sure showed.
From listening to the writers break down their sketches, it's clear that a lot more thinking and fine-tuning goes into jokes than audiences appreciate. A sketch this past weekend included an Of Mice and Men reference.
They insist that if a host falls flat (about once a season, they say) it's not always the host's fault. They occasionally get untrained non-performers to work with them. And for the failing entertainers, John Mulaney explained that hosting is not a natural thing to do, outside of their comfort zones.
PANEL RULES!
Some audience behavior seems to repeat itself panel after panel. We'll be updating a running list of "PANEL RULES!" that will help ensure that you are not the dweeb of the Panel Nerds.
Panel Nerds don't like… Palin Obsessers
For the most part, the questions were all excellent. One question came about Sarah Palin, a reliable source of laughs during the past presidential election. But that was several seasons ago, and Palin has largely become an afterthought as we gear up for the next election season. There are more promising characters and recurring bits to focus on now. It's time to leave Palin behind.
Have a tip we should know? tips@mediaite.com