The Five Best Columns About The Child Abuse Scandal Written By Penn State Alums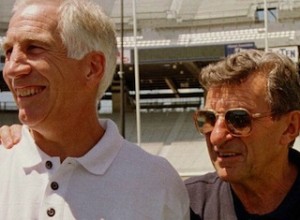 The Penn State abuse scandal is still a much-discussed topic, and several of the university's alumni have publicly chimed in via columns in the press. While most have tried to understand how this terrible tragedy could have happened on their beloved campus, others are focused on the victims and how many others there might be out there. Former star linebacker LaVar Arrington shared his thoughts on his time playing for Jerry Sandusky: "It has shattered the image of a man who meant so much to me." Here's a rundown of the best takes from PSU alumni-turned-writers around the country:
I know that I'm in denial. I know that I'm working through multiple layers of anger and disgust and neurosis and angst. I know that I'm too emotionally attached to the situation to offer any kind of objective take, though I don't think I realized how emotionally attached I was until this occurred. I never understood how much of an effect both football and a sense of place had on my persona.
Paterno's role is the biggest betrayal. For all of us who went to Penn State over the last few decades, Paterno served as an honorary grandfather. He might be a curmudgeon, and he might be doddering, but you always felt that he had everyone's best interest at heart. Not anymore.
Mike Missanelli, Philadelphia Inquirer:
It's unspeakable. But it's a culture cultivated by years and years of drinking the Penn State Kool-Aid. In the mid-1970s, when Nixon was covering up crimes in the White House, the American people were held hostage, but we weren't really victims. Penn State's cover-up put innocent children at risk, and that's a stain on a great institution of higher learning that unfortunately will never fully be removed.
Shawn Hubler, Los Angeles Times:
More than three decades have passed since I left Pennsylvania. I live, of all places, in California now. I have tried, this week, to explain to friends here how good people could be so blinded by loyalty that unspeakable acts might transpire, right before them, and still feel unable to ask the obvious questions. I've tried to explain my own mixed feelings to myself.
Mike Matvey, New York Daily News:
The shame of being associated with the university is too great. The shame of the top officials who stood by while Sandusky allegedly preyed on these young boys is too much. Too intense. I went running Saturday, picked up my Penn State hat, and decided against wearing it. Not sure when I will put it on again.
Have a tip we should know? tips@mediaite.com