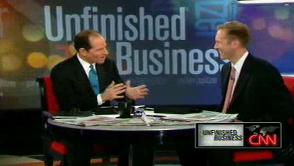 In the middle of the "Political Party" last night on Parker Spitzer, Kathleen Parker turned to her co-host Eliot Spitzer and said she wanted to "find out what your guilty pleasure is." Then she began answering: "Eliot…" – pause, jaws dropping to floor, "…loves NASCAR."
If the goal was to get on The Daily Show tonight, that's highly likely. The premiere was a wide array of interesting opinions (yes, opinions) and a couple watchable, but odd, segments.
The show started strongly, with the "Opening Arguments" segment: each host taking a separate issue and arguing their point. That was followed by a segment featuring Andrew Breitbart as a guest – in fact, the first guest ever announced on the show. It was a bold move, and allowed Breitbart to flex his more mainstream muscles (that can often be found on Real Time with Bill Maher). But he wasn't entirely in friendly territory. Spitzer closed the segment asking about Shirley Sherrod.
Up next was Elizabeth Warren ("The Headliner"), who Spitzer excitedly interviewed, and Aaron Sorkin Oliver Stone, who didn't hold back in discussing his political points of view. Spitzer had a solo segment with Henry Blodget for "Unfinished Business" (video below), teasing the backstory before introducing the guest. "Back when I was Attorney General I went after people like Henry Blodget," said Spitzer, saying Blodget "symbolized everything wrong with Wall Street." But when it came time for the big showdown, there was more of a congratulatory tone: 'Look how we both turned our lives around.' Still, the discussion was informative and refreshingly unusual for cable news.
Then there was the "Political Party" segment, featuring a panel of four, who were encouraged by Parker to play a "party game." The first game for the roundtable was to "say something nice about Sarah Palin." An interesting idea, which featured real answers like the fact that she endorses non-establishment candidates, and not so real answers like her use of leather jackets. "We're throwing a party every night at this time on Parker Spitzer," said Parker at one point in the segment (sometime after the "guilty pleasure" situation).
Spitzer and Parker are both compelling television personalities, and with that foundation the show has a great chance to ultimately succeed. But one major area of concern is the taped nature of the show. None of it is live, which matches Bill O'Reilly but no other cable news prime time show. While O'Reilly is pre-taped, it doesn't feel edited. Several times throughout Parker Spitzer, jump cuts are clear in the middle of interviews – it's a jarring news viewing experience. Also, the program suffers from the new CNN theory of naming (and essentially branding) every segment. John King, USA does this too, and it hasn't worked there. Why can't an interview with Henry Blodget just be an interview with Henry Blodget? The content can stand on its own.
And I'm with James Poniewozik – they could use a bigger desk.
Here's the "Unfinished Business" segment:


—–
» Follow Steve Krakauer on Twitter
Have a tip we should know? tips@mediaite.com