People Close to Trump Estimate He Spends Up to Eight Hours a Day Watching TV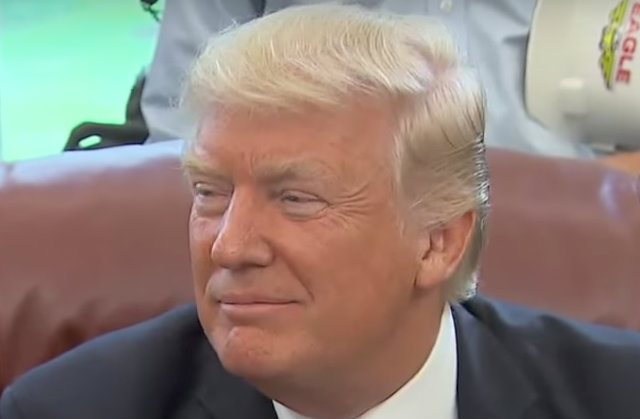 Throughout the first year of his presidency, President Donald Trump has attempted to convince the public that he actually doesn't watch that much television. Last month, he told reporters he is too busy "reading documents" to watch TV. Back in July, he said "I have very little time for watching TV."
The W.H. is functioning perfectly, focused on HealthCare, Tax Cuts/Reform & many other things. I have very little time for watching T.V.

— Donald J. Trump (@realDonaldTrump) July 12, 2017
Of course, his own tweeting habits present contrary evidence, as he exerts quite a bit of effort criticizing various cable news networks while simultaneously tossing praise at Fox News. And, according to a new deep-dive by the New York Times, those who know the president claim that devotes hours each day to sitting in front of the tube.
Before taking office, Mr. Trump told top aides to think of each presidential day as an episode in a television show in which he vanquishes rivals. People close to him estimate that Mr. Trump spends at least four hours a day, and sometimes as much as twice that, in front of a television, sometimes with the volume muted, marinating in the no-holds-barred wars of cable news and eager to fire back.
The lengthy piece also reveals that the president wakes up at 5:30 each morning and immediately begins flipping through the cable news morning shows, watching CNN for news, getting his comfort food from Fox & Friends and sometimes turning on Morning Joe to get angry and energized.
Furthermore, he'll sometimes tweet while propped up on a pillow while in bed. The article noted that Trump will sometimes move over to the next den to watch another television or make his way to the Treaty Room, often while still in his pajamas.
[image via screengrab]
—
Follow Justin Baragona on Twitter: @justinbaragona
Have a tip we should know? tips@mediaite.com