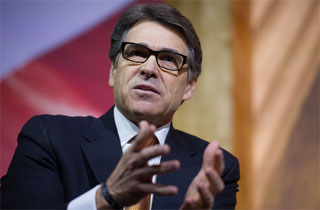 Rick Perry––the first Republican presidential candidate to call on Donald Trump to get out of the race after his attacks on John McCain––is once again taking the fight directly to Trump, calling his candidacy "a cancer on conservatism."
Perry gave a speech today in D.C., and while it was not covered live, his website features the prepared text of his remarks, and it's quite a doozy.
He calls Trump a "barking carnival act" whose antics risk destroying the conservative cause, and even says he's "the modern-day incarnation of the know-nothing movement."
And in talking about what Trump said about McCain, Perry went in for the kill:
Donald Trump was born into privilege. He received deferments to avoid service in Vietnam. He breathes the free air thousands of heroes died protecting. And he couldn't have endured for five minutes what John McCain endured for five and a half years.

Think what you want about Senator McCain's politics, but let no one question his service to our country.

Here was a man offered the chance to go home. He refused, knowing it could cost him his life. There was no way he would leave before any man captured before him. This is the embodiment of duty, honor, country. Mr. Trump does not know the meaning of those words.
He warns fellow Republicans to "beware of false prophets" who "appeal to anger, division, and resentment."
Yesterday Perry trolled Trump by retweeting words of praise from The Donald back in 2012. Trump responded today with a photo of Perry "begging for my support and money" during that election cycle.
[image via Christopher Halloran/Shutterstock]
— —
Follow Josh Feldman on Twitter: @feldmaniac
Have a tip we should know? tips@mediaite.com
Josh Feldman - Senior Editor