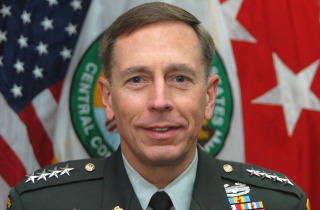 General David Petraeus, the former director of the CIA, could face felony charges for leaking classified information after a recommendation by federal prosecutors. This news, broken by The New York Times and independently confirmed by CBS News, is connected to the now-infamous sex scandal involving a reporter that tarnished Petraeus' career.
A little over two years ago, Petraeus stepped down as head of the CIA and openly admitted to an extramarital affair with reporter Paula Broadwell. At the time, there were questions about classified information that Broadwell may have been privy to. An FBI search found classified documents in her house, but Petraeus himself insisted he did not pass along any classified information.
Fast-forward to today, with the FBI and the Justice Department recommending felony charges because Petraeus did, in fact, provide Broadwell with classified information. Investigators consider this to be a "significant security breach."
It is now at the discretion of Attorney General Eric Holder whether to push for an indictment.
UPDATE — 1/11/15: Appearing on This Week and Meet the Press, Attorney General Eric Holder said a final decision on whether Petraeus will face charges has yet to be made.
"I don't want to really comment on what is an ongoing investigation," Holder said on This Week. "But I will say that frequently, those things that we characterize as leaks — they are frequently inaccurate. I'll just leave it at that."
Sen. Dianne Feinstein (D-Calif.) expressed doubt that charging Petraeus would do any good.
"This man has suffered enough in my view," she said on State of the Union. "People aren't perfect. He made a mistake. He lost his job as CIA director because of it. How much do you want to punish somebody?"
[image via DoD]
— —
Follow Josh Feldman on Twitter: @feldmaniac
Have a tip we should know? tips@mediaite.com
Josh Feldman - Senior Editor