Planned Parenthood Responds To Herman Cain's Criticism: Cain Is 'Clearly Out Of The Mainstream In His Attack'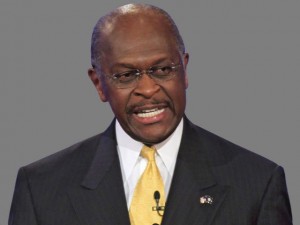 Planned Parenthood has responded to statements made by GOP presidential hopeful Herman Cain on last Sunday's edition of Face the Nation.
Cain, whose articulation of his stance on abortion has resulted in some confusion, has remained consistent regarding his feelings about Planned Parenthood. If elected president, he has said, he would work to defund the organization.
RELATED: Herman Cain: I'm Not Pro-Choice, I'm Pro-Choice On Getting An Illegal Abortion
In addition, Cain has been outspoken about the issues he has with Planned Parenthood's founder, Margaret Sanger, whose work advocating for increased access birth control and family planning options has been linked to her documented support for negative eugenics and her belief in the superiority of lighter-skinned peoples. (You can read more about Sanger's — rather surprising, given current views on race and racism — relationship to the black community on her Wikipedia page. Sanger's motivation in offering birth control options within black communities is a matter of contention among people looking back at her work, to say the least.)
During his Face the Nation appearance, Cain did not back down from earlier remarks he has made regarding the organization in general and Sanger in particular:
If people go back and look at the history and look at Margaret Sanger's own words, that's exactly where that came from. Look at the history. Secondly, look at where most of them were built. Seventy-five percent of those facilities were built in the black community. In Margaret Sanger's own words, she didn't use the word "genocide," but she did talk about preventing the increasing number of poor blacks in this country by preventing black babies from being born.
"What I'm saying, he added, "is Planned Parenthood isn't sincere about wanting to try to counsel them not to have abortions."
Now, Veronica Byrd, the director of black media for Planned Parenthood's Action Fund,
has released a statement condemning Cain's statements:
It is simply unacceptable for those who oppose legal abortion to use inflammatory and divisive language based on race to push an ideological agenda. Herman Cain is wrong on the facts and clearly out of the mainstream in his attack on Planned Parenthood.
(Interesting phrasing.Wouldn't Cain being "out of the mainstream" in his case actually help him where support among the base in concerned?)
Byrd also cited a study from The Guttmacher Institute, which FoxNews.com summarized thusly:
The Guttmacher Institute said that according to 2008 figures, the most recent data available, 63 percent of abortion clinics — defined as providers of 400 or more abortions annually — are located in predominantly white neighborhoods while 12 percent are located in neighborhoods where one-half or more of the residents are Hispanic. Only 9 percent are located in predominantly black neighborhoods while 15 percent are located in mixed racial and communities.
Hot Air, however, joins LifeNews.com in questioning the motivation behind that study, reporting that The Guttmacher Institute has "extensive ties to the abortion industry."
Have a look at Cain's Face the Nation appearance, via CBS:
Have a tip we should know? tips@mediaite.com