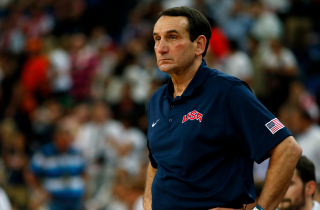 The hubris of the college basketball coach—the smug sense of entitlement, the vanity, the petulance— makes loathing each one as simple as ripping up a bracket. They never learn and they lose sorely. Sound familiar?
Well, yesterday, as millions googled "Where the f**k is Mercer University," and Warren Buffett breathed a billion sighs of relief, a separate Cinderella story came from nowhere to teach politicians a thing or two about losing.

Duke Coach Mike Krzyzewski — he of the four NCAA championships, two gold medals, and rabid hate base—exhibited humility and grace:
Coach K just came into Mercer locker room: "If we got beaten, at least we got beaten by a hell of a basketball team." pic.twitter.com/5vrkF4RQYR

— Nicole Auerbach (@NicoleAuerbach) March 21, 2014
It's not so much the gesture from the living legend and decorated Blue Devil that should make web waves, but rather the prompt transition from "us vs. them" on the court to "we" in the losing locker room.
The winningest active coach in Division I shared: "I love the game and when the game's played really well, I hope it's us that's playing it. But when it's the other team, you applaud it. I applaud Mercer and they were absolutely terrific."
Coach K, in his bluest of blue hearts, knows what's good for college basketball—and, THIS JUST IN, that doesn't always align with the best-case scenario for the insufferable Cameron Crazies. In this case, a likeable team played a near-perfect game and earned the respect of a nation. So Coach K extended a hand and said, "Congratulations." THIS ALSO JUST IN—America really took to it.
You certainly won't find Nancy Pelosi or Ted Cruz jumping through those kinds of hoops—they keep the madness marching onward.
With mid-term elections fast approaching, the debates over which party will get clobbered have already begun—and politicians will surely turn off the shot clock.
Take a page out of Coach K's playbook and never forget that humility in losing breeds unity.
[Image via Mike Segar/Reuters]
— —
>> Clark Young is, above all things, a Mainer and Red Sox fan. Follow him on Twitter here.
Have a tip we should know? tips@mediaite.com