Politifact Gives Trump 'Pants on Fire' Rating for Claims of Mass Voter Fraud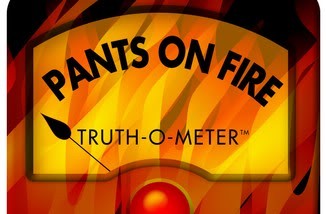 Politifact has noted Donald Trump's claims about the election being "rigged," and their research suggests there's very little evidence to justify his complaints about widespread voter fraud.
The fact-checking website looked through a number of academic studies, including two praised by Trump, and they determined that his claims are inaccurate enough to warrant their "pants on fire" rating. While illegal voting and other electoral shortcomings have occurred in the past, Politifact determined that they are infrequently done, and have never made a substantial impact on a national election.
After demonstrating the unreliability of Trump's cited evidence, Politifact turned to studies that examined the impact of "willful deception," votes from dead citizens, and other interference. In the end, Politifact concluded only 31 confirmed acts of voter fraud occurred between 2000 and 2014.
"More people are struck by lightning or attacked by sharks than are accused of voter fraud…For double or triple voting to sway an election, an army of voters would have to visit multiple polling locations each, know the names and addresses of the people they were impersonating and produce fake IDs (in many states) or forge their signatures — plus commit to committing perjury the entire time."
As multiple figures push back on Trump's claims, the mogul continues to insist that the media, the establishment, and various pro-Hillary Clinton forces have teamed up to destroy his campaign. Trump critics are concerned that the rhetoric is an irresponsible attempt to delegitimize the electoral system should Trump fail.
[Image via screengrab]
— —
>> Follow Ken Meyer (@KenMeyer91) on Twitter
Have a tip we should know? tips@mediaite.com