POLL: Sheriff David Clarke Deeply Unpopular, Basically Has No Path to Victory in Reelection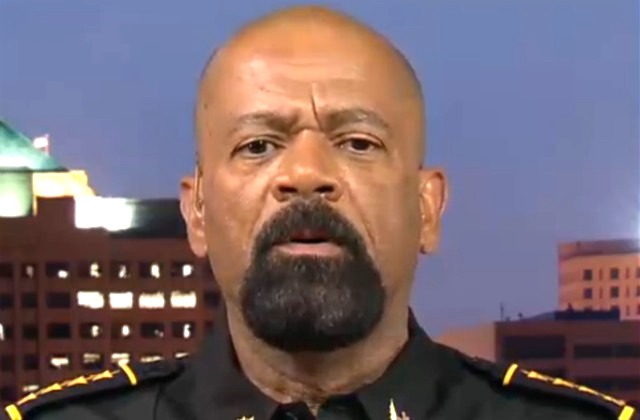 As Milwaukee County Sheriff David Clarke has seen his national profile increase, his standing back at home has plummeted.
According to a new survey by Public Policy Polling, the outspoken law enforcement chief is extremely unpopular with voters in Milwaukee County and has essentially no path to victory if he seeks reelection next year. Per the poll, only 31% of the voters in the county approve of the job he's doing, compared to 62% who disapprove.
PPP also found that 65% feel that Clarke has had a negative impact on the county's image with only 29% thinking he's helped give the area a positive image. The outspoken sheriff has found himself in the news on a regular basis, whether it be from his social media posts, comments made on cable news interviews, or for allegedly detaining a traveler for shaking his head at him.
Clarke, who is a Democrat despite saying he wants to choke those in the party, has virtually zero chance at this point of winning a Democratic primary. Among Democratic voters, only 13% said they'd support Clarke in the primary while 82% would back anyone other than the current sheriff.
Now, Clarke could run as a Republican and likely win that primary as 78% of those who voted for President Donald Trump approve of the job he's done. However, that still leaves him no real way to win the election due to the makeup of the county. PPP found that 62% of those surveyed vote in Democratic primaries compared to only 27% in Republican ones. Also, 64% of respondents voted for Hillary Clinton in the presidential election and only 30% approve of Trump.
[image via screengrab]
–
Follow Justin Baragona on Twitter: @justinbaragona
Have a tip we should know? tips@mediaite.com