Poll Shows 'No' Vote On Background Checks Political Poison For Senator Kelly Ayotte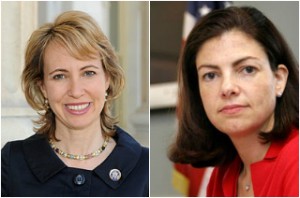 In the aftermath of the U.S. Senate's failure to pass the Manchin/Toomey background check bill, people on both sides of the gun reform debate have been casting about for some indication of what the consequences of that vote will be, and where the momentum resides. In a new Public Policy Polling poll of very pro-gun New Hampshire, Sen. Kelly Ayotte (R-NH) has seen a 15-point drop in her approval rating in the state, and a full 50% of New Hampshire voters say that Ayotte's vote against background checks will make them less likely to vote for her in future elections, including 66% of self-described moderates.
As you might expect, there's a huge partisan gap in the democratic polling firm's survey, with 79% of Democrats saying they'd be less likely to vote for Ayotte over her "no" vote, versus 17% of Republicans, but with all-important independents, the 50% number holds strong. Only 23% of independents said the vote would make them more likely to vote for Sen. Ayotte, with 26% saying it wouldn't make a difference. Sen. Ayotte's approval rating has also taken a nosedive since the last PPP poll:
Ayotte now has a negative approval rating with 44% of voters giving her good marks and 46% disapproving. That's down a net 15 points from the last time we polled on her, in October, when she had a 48% approval with 35% disapproving. 75% of New Hampshire voters- including 95% of Democrats, 74% of independents, and 56% of Republicans- say they support background checks. And 50% of voters in the state say Ayotte's 'no' vote will make them less likely to support her in a future election, compared to just 23% who consider it to be a positive.

Ayotte won her seat in 2010 by 23 points. But in a very early hypothetical match up between her and new Democratic Governor Maggie Hassan, she trails by a 46/44 margin. This issue is really giving her some trouble.
Sen. Ayotte won that 23-point victory during the 2010 midterm election, but the state went for Barack Obama in 2012 by a 52%-46% margin. In 2016, she'll probably be up against a general election ballot that will include former Secretary of State Hillary Clinton. That's not a good time for her to be losing 17% of Republicans, 50% of independents, and 66% of moderates. To her marginal credit, the NRA "A"-rated Sen. Ayotte did join 16 other Republicans in defeating a Republican attempt to prevent the background check bill from even being debated, which hasn't seemed to help her with New Hampshire voters, but which will leave her open to attack from the right by potential primary opponents.
Keep in mind, too, that this poll was taken before Gabby Giffords' Americans For Responsible Solutions began running this ad in New Hampshire, released Wednesday morning:
The 2014 midterms will be the real canary in the coal mine for the senators who conspired to kill the bill with a minority of votes, but Ayotte's situation should at least give some of the NRA's finest lawmakers something to think about.
Have a tip we should know? tips@mediaite.com