Climate Porn: Washington Post Publishes Eerily Scored Video Showing U.S. Cities Underwater In Year 2600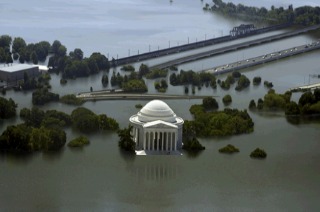 On Wednesday, the Washington Post's Capitol Weather Gang published a terrifying post featuring clips from an equally terrifying YouTube video showing what the Eastern seaboard will look like in the coming centuries if the effects of climate change are not forestalled. Be warned – if you are faint of heart, prone to seizures, or just though The Day After Tomorrow was an awful movie – you may want to click away now…

Okay… you've been warned.
Behold! The grim future… made somewhat less grim by virtue its having been scored by Hans Zimmer:
The video depicts a series of sea level increases of five, 12 and 25 feet in the near and distant future. The video features American landmarks and cityscapes in Miami, New York, Boston, and Washington D.C. inundated by a biblical but anthropogenic tide.
RELATED: Chris Hayes Compares Climate Change To Civil War, Untapped Oil Reserves To Slaves
WaPo notes that, for the skeptics, these images could also suffice as warnings of what a future tidal surge during a hurricane – like 2012's Hurricane Sandy – could do to a city:
Even if you're skeptical of some of the more alarming and dramatic sea level rise projections from global warming, these visuals can give you a realistic sense of what hurricane storm surge flooding could do in these East Coast cities. Major hurricanes could bring double digit foot surges up and down the East Coast (although a 25-foot surge is probably unrealistic – in the current climate).
h/t Washington Post
> >Follow Noah Rothman (@NoahCRothman) on Twitter
Have a tip we should know? tips@mediaite.com