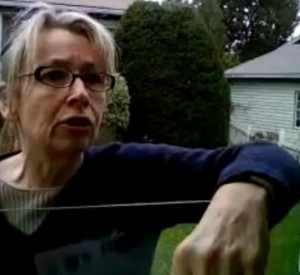 Poor racists. In this digital age, they can't even go on an old-fashioned, bigoted rant without having it secretly recorded, uploaded onto the Internet, and seen around the world. The Hingham, MA, woman below may not be a celebrity on par with Michael Richards or Mel Gibson, but her obscenely racist and eventually violent tirade against a postman is making her famous in her own way. Oh, and the recipient of the ugly tirade? He allegedly lost his job because of it. Wait, what?
In the video below, the customer becomes enraged when her mail carrier refuses to take back a certified letter that she had signed for but no longer wants. This prompts her to tell him that he's a "f*cking ni**er thief"; that he "killed Martin Luther King, Jr." because black people always turn on each other; that she's his leader and could "lock him up for life"; that blacks are intellectually inferior to whites; and that, of course, she's "not prejudiced." The patient man on the other end of this is secretly recording the not-prejudiced woman with his cell-phone camera, which gets momentarily knocked out of place when the woman reaches in and apparently slaps him.
The poster on YouTube claims to have been fired over this incident, writing:
This woman is outrageous — I am still waiting for US Postal Inspection Service to investigate this matter. it has been a year since postmaster fired me for this racist lady, and Hingham court let her go free, no trial.
While getting fired over this incident seems outrageous, it is worth noting that Massachusetts is a so-called "two-party" state, which means that one cannot legally record audio (you can video) without both persons consent. The sad, disappointing and completely shocking video below. (H/T Gawker)
Have a tip we should know? tips@mediaite.com