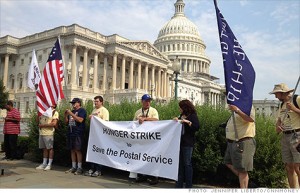 A group called Communities and Postal Workers United kicked off a planned four day-long hunger strike at 10 a.m. this morning, gathering for a press conference at the the Capitol alongside Rep. Dennis Kucinich, who is so far the only congressperson publicly supporting the protesters. Tomorrow, the participants plan to march to the Capitol from the postal service headquarters at l'Enfant Plaza and will organize a protest in front of the Washington Post's offices on Wednesday.
The strike will wrap up on Thursday with a rally in front of postal service headquarters, where, as the Washington Post's Lisa Rein reports, the group will make an attempt to meet with Postmaster General Patrick Donohoe.
RELATED: Cheers Actor John Ratzenberger Tells Fox & Friends Post Office 'Should Be Run by A Businessman'
Rein explains the goal of the protest:
The theme of the strike is that cuts to service — slower mail, reduced window hours at 13,000 rural post offices, shuttering processing plants — will only hurt business by draining revenue. There's a labor issue too: The service is expected to lose tens of thousands of jobs in coming years through buyouts and attrition.

"You reduce service, and people give up on the service," said Jamie Partridge, a retired letter carrier from Portland who is coming to Washington to strike. "It's a self-fulfilling prophecy."
CNN reports that there is a total of ten current and former postal workers organizing the protest.
Here's a list of groups, organizations, media outlets, and individuals who have endorsed the strike.
h/t Washington Post, Photo via CNN.com
Have a tip we should know? tips@mediaite.com