POTUS Once Again Calls Russia Probe 'Witch Hunt,' Claims 'Russia Was Against Trump'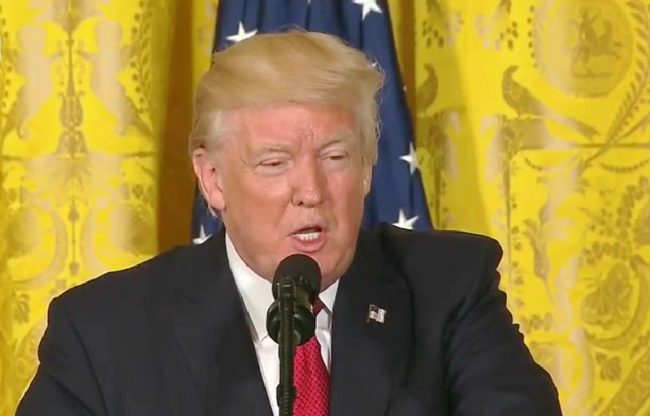 This morning, the president started his weekend as he has so many before — with a tweetstorm airing his latest grievances. In this instance, he lashed out at Senate Republicans, calling on them to get rid of the filibuster so all bills can be passed with a simple majority.
He also addressed the investigation into Russian election interference and potential collusion with the Trump campaign. And not so shockingly, he labeled it a witch hunt, as he's done many times before. However, in a new twist, he also claimed this time around that Russia was actually against him during the election — by pointing to a story tweeted out by Fox & Friends.
Firm behind anti-Trump dossier also worked for Russia, Senate witness says https://t.co/0hj0tAIpe7

— FOX & friends (@foxandfriends) July 28, 2017
In other words, Russia was against Trump in the 2016 Election – and why not, I want strong military & low oil prices. Witch Hunt! https://t.co/mMSxj4Su5z

— Donald J. Trump (@realDonaldTrump) July 29, 2017
As journalists quickly noted, the assessment of the American intelligence community has been that the Russian attempted to influence the 2016 election to help Trump win.
The US intelligence community assessed that Russia's aim was to damage Clinton and help Trump. https://t.co/e8ceuGavSj

— Jim Sciutto (@jimsciutto) July 29, 2017
Fox and Friends versus the Intel community he oversees https://t.co/n5yhcIwmwz

— Maggie Haberman (@maggieNYT) July 29, 2017
I wonder how the intel community views Trump's repeated dismissal of their findings. That Fox News is preferred to their expertise. https://t.co/8ekZdGf4eb

— Kyle Griffin (@kylegriffin1) July 29, 2017
Also, it should be noted that in the story Trump retweeted, Senate witness Bill Browder also skewered Russian attorney Natalia Veselnitskaya, stating she essentially worked directly for Russian President Vladimir Putin and the Russian intelligence community. Veselnitskaya is the lawyer Donald Trump Jr. and other campaign officials met with in June 2016 in order to obtain dirt on Hillary Clinton from the Russian government.
[image via screengrab]
—
Follow Justin Baragona on Twitter: @justinbaragona
Have a tip we should know? [email protected]