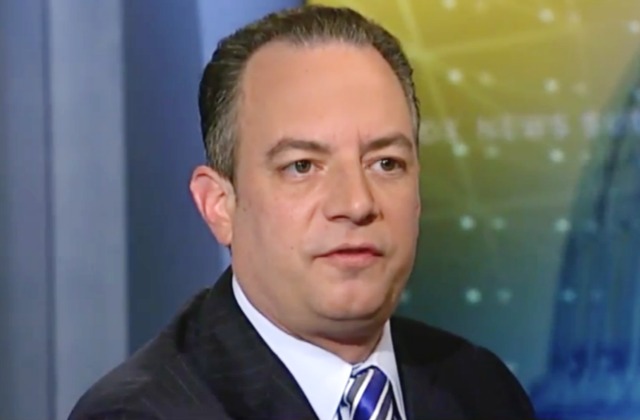 Yesterday brought the news that White House Chief of Staff Reince Priebus was out, replaced by Department of Homeland Security Secretary John Kelly. Priebus's ouster came on the heels of Priebus' feud with White House Communications Director Anthony Scaramucci bursting out publicly. This featured Scaramucci essentially accusing Priebus of being a leaker and unleashing a vulgar tirade to the New Yorker where he described Priebus as a "fucking paranoid schizophrenic."
Scaramucci never faced any public reprimand from President Donald Trump for his behavior towards the former Republican National Committee chairman, making it appear that Trump endorsed the public demeaning of his chief of staff. And why not? According to a piece by the Washington Post, Trump had grown accustomed to humiliating Priebus on a daily basis.
Despite supposedly being one of the most senior officials in the West Wing, Trump once called Priebus into the Oval Office specifically to swat a fly that was buzzing around the room. From the Post's article:
Trump's demeaning of Priebus came through in other ways, too. At one point, during a meeting in the Oval Office, a fly began buzzing overhead, distracting the president. As the fly continued to circle, Trump summoned his chief of staff and tasked him with killing the insect, according to someone familiar with the incident. (The West Wing has a regular fly problem.)
And the humiliation continued all the way through Priebus' last day. After Trump tweeted that he was repalcing his chief of staff as Air Force One sat on the tarmac at Andrews Air Force Base, Priebus was suddenly ditched by other White House aides. Sitting in a SUV with Dan Scavino and Stephen Miller, Priebus found himself sitting in the vehicle alone when Scavino and Miller hopped out of the car. The vehicle then pulled out of the presidential motorcade. This led one Republican strategist to compare the scene to Game of Thrones' infamous 'Red Wedding.'
Ouch.
[image via screengrab]
—
Follow Justin Baragona on Twitter: @justinbaragona
Have a tip we should know? tips@mediaite.com