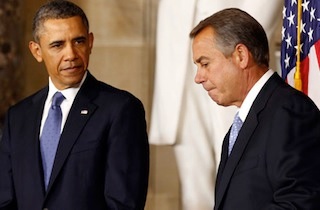 As the government shutdown enters its seventh day, President Obama has reportedly reached out to Speaker of the House John Boehner a second time in order to have a conversation with him about the shutdown and the looming debt ceiling crisis. Minutes ago, the White House released a readout of the Tuesday morning call, which differs slightly from the summary that Speaker Boehner's spokesman gave reporters.
President Obama has already had one conversation with Speaker Boehner during this shutdown, and according to the White House, this second effort was similar to the first. From The White House:
Readout of the President's Call to House Speaker John Boehner

Late this morning, the President telephoned Speaker John Boehner from the Oval Office and repeated what he told him when they met at the White House last week: the President is willing to negotiate with Republicans — after the threat of government shutdown and default have been removed – over policies that Republicans think would strengthen the country.  The President also repeated his willingness to negotiate on priorities that he has identified including policies that expand economic opportunity, support private sector job creation, enhance the competitiveness of American businesses, strengthen the Affordable Care Act and continue to reduce the nation's deficit.

The President urged the Speaker to hold a vote in the House of Representatives on the Senate-passed measure that would re-open the federal government immediately.  Citing the Senate's intention to pass a clean, yearlong extension of the debt limit this week, the President also pressed the Speaker to allow a timely up-or-down vote in the House to raise the debt limit with no ideological strings attached.  He noted that only Congress has the authority to raise the debt limit and failure to do so would have grave consequences for middle class families and the American economy as a whole.
John Boehner spokesman Brendan Buck offered a shorter, less complete version of the call:
Boehner spokesman Brendan Buck confirmed the conversation, saying that "the president called the speaker again today to reiterate that he won't negotiate on a government funding bill or debt limit increase."

The call took place at about 10:45 a.m., he said.
The White House has also announced that President Obama will deliver remarks and take questions, in the Brady Briefing Room at 2 pm.
[Image via Politico]
Have a tip we should know? tips@mediaite.com