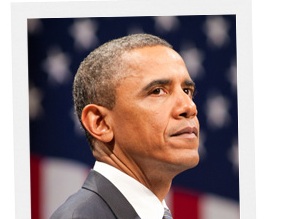 In an email to supporters late Wednesday night, President Obama expressed his frustration with Congress (translation: Republicans) with the succinct subject line "Frustrated."
The email goes on to explain that "It's been a long time since Congress was focused on what the American people need them to be focused on," but offers little hope that his much-anticipated jobs speech next week will be the kind of ambitious masterstroke that his supporters want, and that the country desperately needs.
Recipients of the Obama For America email might have seen the subject line and thought he was referring to their angst over his handling of the debt ceiling "hostage negotiations," but he was actually referring to the possibility that Congress might listen to his plans to grow jobs and the economy, and still do nothing. Embedded in the subtext, though, are hints that his plan is going to be a series of bunt singles and sacrifice flies, rather than the grand slam supporters are hoping for:
That's why I'm putting forward a set of bipartisan proposals to help grow the economy and create jobs — that means strengthening our small businesses, giving needed breaks to middle-class families, while taking responsible steps to bring down our deficit.
So, tax cuts, spending cuts, and trade deals.
At yesterday's White House briefing, though, Press Secretary Jay Carney hinted that the President's plan could contain something powerful, but like the briefcase in Pulp Fiction, we have no idea what the hell it could be. The President has a habit of only pushing measures that he thinks he can get the votes for, but many feel as though this is the time to put forward the best plan, and let the voters push to get the votes, or to send the obstructionists packing.
The email also includes a link where you can "Stand with him by adding your name," without really explaining what that means. Is it a petition? A devastating name collage? No, it's a gateway to a donation page (with a picture of a frustrated-looking POTUS).
The ingenious, relentless degree to which OFA solicits campaign funds (with wild success, I might add) was something of a running joke during the 2008 campaign. We used to joke that when Sasha and Malia get their allowance, an OFA dialog box probably appears in mid-air, asking if they want to make a donation of $5, $10, or $25.  It's nice to see they haven't lost their touch.
Here's the full text of the OFA email:
subject Frustrated
signed-by barackobama.com

Friend —

Today I asked for a joint session of Congress where I will lay out a clear plan to get Americans back to work. Next week, I will deliver the details of the plan and call on lawmakers to pass it.

Whether they will do the job they were elected to do is ultimately up to them.

But both you and I can pressure them to do the right thing. We can send the message that the American people are playing by the rules and meeting their responsibilities — and it's time for our leaders in Congress to meet theirs.

And we must hold them accountable if they don't.

So I'm asking you to stand with me in calling on Congress to step up and take action on jobs:

http://my.barackobama.com/Time-To-Act

No matter how things go in the weeks and months ahead, this will be an important challenge for our organization.

It's been a long time since Congress was focused on what the American people need them to be focused on.

I know that you're frustrated by that. I am, too.

That's why I'm putting forward a set of bipartisan proposals to help grow the economy and create jobs — that means strengthening our small businesses, giving needed breaks to middle-class families, while taking responsible steps to bring down our deficit.

I'm asking lawmakers to look past short-term politics and take action on that plan. But we've got to do this together.

I will deliver this message to Congress next week, but I'm asking you to stand alongside me today:

http://my.barackobama.com/Time-To-Act

More to come,

Barack
Have a tip we should know? tips@mediaite.com