President Obama's Approval Rating Up 5 Points in Week Following Obamacare Deadline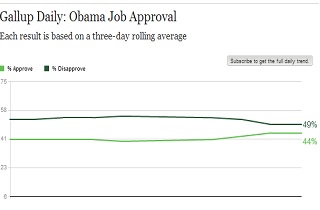 There's good news and bad news in President Obama's most recent approval numbers from Gallup's Daily Tracking Poll. The good news is that his approval rating has jumped five points in just over a week, to its highest level since the government shutdown, while his disapproval rating has also declined five points. The bad news is that, even with that rapid jump, the President's approval rating is still just 44%, versus a disapproval rating of 49%.
The Department of Health and Human Services announced on Sunday that almost a million people enrolled in Obamacare through Healthcare.gov from Dec. 1 – Dec. 24, bringing the total of people to enroll in private insurance through federal exchanges to at least 2.1 million since the law took effect in October, plus an additional 3.9 million who have been deemed eligible for Medicaid. Over the next week or so, final enrollment figures from state exchanges could take that number even higher.
Jason Easley from Politicus USA sees a correlation with the recently released Obamacare enrollment figures:
Now that the ACA website is repaired, and millions of Americans are signing up, the media's endless drumbeat of negativity has temporarily stopped. Without the Republican fueled Obama bashing from the corporate media, the president's approval rating has gone up, and his disapproval rating has gone down.

…Obama's improved poll numbers also reflect the fact that Obamacare is working. Enrollment surged in December, and yesterday HHS announced that 6 million people now have healthcare coverage thanks to the ACA. The negative stories about a glitchy website have been replaced with millions of Americans getting access to affordable healthcare.
That's entirely possible, but its also possible that, with a huge holiday news dead zone, no news was good news for the President. These numbers are based on a rolling average, and only include the period between Dec. 21-Dec. 29, so it will be interesting to see how this trend holds as the news revs up its motor again. If nothing else, though, this result does seem to demonstrate the influence of the mainstream media on public opinion.
Have a tip we should know? tips@mediaite.com