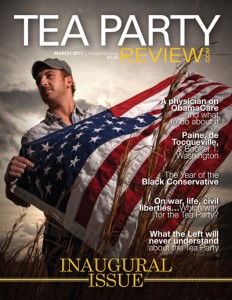 And you thought their tri-corner hats were old fashioned. Now the Tea Party has joined the print media! Their new magazine is called the Tea Party Review and it premieres this month. Of course, the Tea Party is a bunch of separate groups that share some common goals, but without any leading entity it will be difficult and seems almost presumptuous for just one magazine to represent all of them. Still, this is probably how people felt when Cat Fancy promised to speak for all cat fanciers out there (and that totally worked out fine.)
The official website doesn't link to, or mention any specific Tea Party group. And the press release promises that the staff reflects "the diversity of the movement, including individuals from all over the country incorporating a wide variety of backgrounds." So it looks like they're definitely going for an all inclusive type deal. It'll be interesting to see if the disparate Tea Partiers can unite behind one media force. If they can do that, uniting behind one national presidential candidate shouldn't be hard at all.
But enough of that serious talk. What's in the damn thing? Besides, of course, pictures of people holding flags to symbolize their patriotism while wearing baseball caps to symbolize that they are just like you and me. Lets take a look!
From TeaPartyReview.com:
"Inside you'll find:

¨Complete coverage of the 2012 presidential campaign.
¨How are leading candidates reaching out to Tea Partiers?
¨Who deserves Tea Party support?
¨The ultimate rundown on political corruption in America. If you didn't see it all in one place, you'd never believe it!
¨Washington's War on the American Family.
¨Cartoons from the creators of "The Gentleman from Lickskillet"… and other satire aimed at Big Government and Obama's "Ruling Class."
¨Bold commentary grounded in American values.
¨"Now It Can Be Told": Secrets of the 2010 Campaign
¨Lame Ducks and Bureaucrats: How the Left Plans to Overturn the Election
¨Obama's War on the First Amendment… and the Rest of the Constitution
¨Why the Tea Party Movement is the Mainstream in American Politics
¨The RINOs Fight Back!
¨The Left's "Colorado Model" – and how we can beat it
¨The Tea Party Agenda for Congress in 2011
¨Will Republicans Keep Their "Pledge"?
¨What They Don't Want You to Know about "Progressives"
¨Obama's Alliance with Wall Street and Big Business
¨The Top Ten Lies They Tell About Taxes
¨Stimulus and Bailouts – Who Profits?
¨Goldman Sachs, BP, Enron: Is "Green Energy" the Scam of the Century?
¨Dirty Tricks and Vote Fraud in the 2010 Election
¨Muslims versus the Ground Zero Mosque
¨America's Most Ridiculous Politicians
¨Why the Elite Media Hate Us
¨Glenn Beck vs. the Communist Party: A Tale of Two Rallies
¨The Left's War on Science and Reason
¨How the Top Colleges Turn Kids into Stupid Leftists
¨The Tea Partiers vs. the Race Baiters
¨From 'Starfish' to 'Overton': Key Ideas Behind the Tea Party Movement
¨An infographic demonstrating how to put your pants on one leg at a time
¨Cut-out flag iron ons (because pins are for terrorists now!)
¨Michelle Bachmann centerfold"
Ok, I made up those last three. The rest sounds pretty fun though and while we may joke, it will be interesting to see if this venture is successful and embraced by the Tea Party communities as one of their own.
So if you'd like to get your hands on the latest Tea Party news as well as those awesome baseball cap, flag-bearing dude pictures, make sure to pick up a copy when the magazine premieres at CPAC.
Check out an official promo video from the Tea Party Review below:
Have a tip we should know? tips@mediaite.com