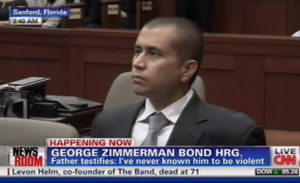 Update: CNN is reporting that a judge has revoked Zimmerman's bond. He has been asked to turn himself in within 24 hours.
The state maintains that there are two factors contributing to the decision: 1) Zimmerman only turned in one of his two passports, and 2) Zimmerman had accumulated, via online fundraising efforts, more money than he had initially disclosed. The prosecution made sure to point out jailhouse phone conversations between Zimmerman and his wife suggesting that they knew exactly how much money they really had prior to statements they had made during his bond hearing.
—
Prosecutors today have asked Florida judge to revoke the bond set for George Zimmerman, the Sanford man charged with the second-degree murder of Trayvon Martin.
According to the prosecution, Zimmerman — a volunteer neighborhood watchman — "misrepresented, misled and deceived the court" during a bond hearing regarding his passport U.S. passport and his family's financial situation.
RELATED: George Zimmerman's Bond Set At $150,000
ABC News Florida correspondent Matt Gutman Tweeted that, in fact, the state is contending that both Zimmerman and his wife of lying:
Plot thickens in Zimmerman case: State says he + wife "lied" about GZ's 2nd passport, and the $135,000 in cash they had before bond. @ABC

— Matt Gutman (@mattgutmanABC) June 1, 2012
Ouch! Prosecution accuses Zimmerman and his wife of flat out lying to court in bail hearing @ABC

— Matt Gutman (@mattgutmanABC) June 1, 2012
In addition, Orlando Sentinel reporter Jeff Weiner reports, also via Twitter, that the prosecution is saying Zimmerman and his wife "may have committed contempt of court by lying:"
Prosecutor says #GeorgeZimmerman & wife may have committed contempt of court by lying. #TrayvonMartin

— Jeff Weiner (@JeffWeinerOS) June 1, 2012
The prosecution will join with Zimmerman's defense lawyers today in an effort to fight the media's request to have more information released about the ongoing case.
UPDATE: Watch the report from CNN below:

Watch Zimmerman's Attorney's remarks below:
h/t Matt Gutman, The Denver Channel, Jeff Weiner
Have a tip we should know? tips@mediaite.com