Rachel Maddow Is NOT Happy With Obama's Kind Words For Former President Bush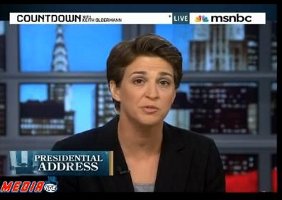 The backlash to President Obama's Oval Office Iraq speech has begun – and so far, one of the toughest critics is Rachel Maddow. Maddow talked with Chris Matthews and Keith Olbermann in the speech's immediate aftermath, and reserved especially harsh judgment for Obama's praise of former President George W. Bush.
Maddow shared this sentiment while the three like-minded pundits discussed a question from Olbermann about whether the speech was "too much in the middle." Matthews responded first, by saying Obama is in the middle, which he called "a hard thing to do, to go to the center on a war." Matthews did, however, say that "there [were] very few arguments made for this war that were ever held out to be true, ever" – while noting his, Olbermann's, and Maddow's "pretty smart view on this war from the beginning."
Olbermann then read aloud Obama's complimentary words for Bush:
"This afternoon, I spoke to former President George W. Bush. It's well known that he and I disagreed about the war from its outset. Yet no one could doubt President Bush's support for our troops, or his love of country and commitment to our security."
…to which Maddow said:"I think we shouldn't get past how remarkable it is, how much the proponents of the Iraq war are getting off easy." She went on to rip "the recklessness with which President Bush discarded…national security in favor of this war of choice, which only diminished our security, and then, the big finish:
"To talk about [Bush] having a demonstrated commitment to our security, having started this war on the terms on which he started it – I mean, it's beyond restraint from president Obama, and anyone in the pro-Iraq war, pro-Bush camp who doesn't feel like they've been given the greatest political present they never deserved was not listening to this speech."
Yes, praising Bush was apparently meant to be conciliatory, that Obama can reach out to both sides and be, as Matthews said, in the middle. But it's a move that's unlikely to win over any detractors, and certainly didn't win him any points from Maddow. Calvin & Hobbes was right: a good compromise leaves everybody mad. Video of the segment below.
Have a tip we should know? tips@mediaite.com