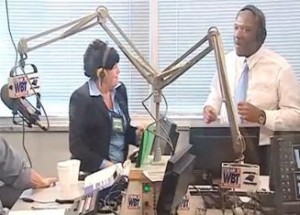 We haven't heard much from South Carolina Senate hopeful Alvin Greene since his back-to-school advice and sad/odd interaction with a TV reporter two weeks ago. That changed today when Greene stopped by a Charlotte radio station and delivered his trademark brand minimal substance and maximum weirdness. Oh, and he danced.
Greene offered host Keith Larson Greene-ish answers on matters ranging from his legal troubles ("There's a process for it") to his shaky military record ("I didn't receive the necessary training required to perform my assigned tasks"). When he really seemed in his element, though, was when Larson turned on mid-summer Youtube rap sensation/LeBron James highlight video/masterpiece "Alvin Greene Is On The Scene." Greene danced the night away to this, and thankfully the Observer has video to prove it. Watch below:
Greene did not dance particularly well, which was enjoyable, though just as good would have been if he'd turned out to be a dancing savant. Anyway, Larson hit Greene with the relevation that he "make[s] it a little bit challenging for folks who want to take [him] entirely seriously." And as much as we haven't taken Greene's campaign very seriously, well, this video (also from the Charlotte Observer) is pretty sad. Greene is either a performance artist or does not have much of an idea what he's talking about, and it sounds like people are openly laughing at him throughout.
"Nobody should have to be laughingstock," said one person interviewed for this article, which details yet further how Greene is completely ill-suited to be an elected official of any kind. But that's exactly what Greene's been since the second he somehow won that primary, and as hilarious and surreal as the story is, the guy is (again, assuming he's not a performance artist) in way, way over his head. He should not be campaigning. And maybe – as difficult as it might be, with videos like the one above – we shouldn't be laughing.
H/T Huffington Post
This is an opinion piece. The views expressed in this article are those of just the author.