'Really Important, Really Worrying': Maddow Scraps Segment to Earnestly Address Viewers on Gen. Flynn Dangers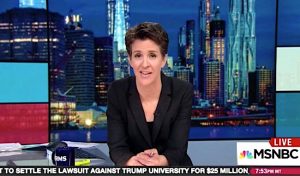 Tonight on The Rachel Maddow Show, the host took a break from her planned programming to address the viewers at home in a moment of sincerity regarding the appointment of lieutenant General Michael Flynn as President-elect Donald Trump's National Security Advisor.
Of course, as Maddow pointed out, it's a role that does not require further votes; once the appointment is made by the President-elect and the candidate accepts (which he did), he's the guy; on January 20th, General Flynn will replace Susan Rice in the role, a position in American history that has been held by Condoleezza Rice, Colin Powell, Zbigniew Brzezinski, and Henry Kissinger.
But Maddow's monologue was not about the history of the position, but rather shades of her concerns for its future. "It will not be discussed all that much compared to the other people who need to go through a Senate confirmation process, but the choice of Mike Flynn really is a different kill of fish than anything that even I think we might have expected from the Trump campaign," she said.
Maddow continued with strong concern, "Mike Flynn calls Islam a political ideology hiding behind a religion. Mike Flynn calls Islam a malignant cancer."
General Flynn formerly served as the director for the Defense Intelligence Agency, and his views on oft-cited Trump campaign topics like waterboarding and the killing of suspected terrorists' families have been expressed ambiguously at best. Maddow continued:
"I would also say that Mike Flynn has been on the payroll — his intelligence firm has been on the payroll of Turkey , including during the Trump campaign, without him disclosing that while he was working for the Trump campaign. I know he's not gonna get as much coverage… stick a pin in that. It's a really, really important, really really worrying announcement."
Watch above via MSNBC.
—
J.D. Durkin (@jiveDurkey) is an editorial producer and columnist at Mediaite.
Have a tip we should know? tips@mediaite.com