Reddit's Ban of Offensive Subreddits Sparks Calls for Female CEO's Resignation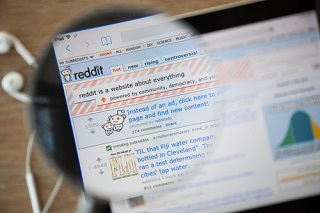 On Wednesday, the Internet retracted and expanded in a single, guttural, massive heave in reaction to the news that the website Reddit had banned five subreddits that were found to be in violation of user policy.
Nothing suspicious here, right? The banned subreddits bore such lovely titles like "/r/FatPeopleHate" and other offensive designations not fit for human consumption. Plus, being that Reddit is a private company, it is well within its rights to set and enforce corporate policies deemed necessary.
The problem is that, while Reddit is a private entity, the "front page of the Internet" is essentially a user-supported, public web forum where lurkers and registered Redditors alike help generate almost all of the content available. Over time, a great deal of freedom was assumed by the website's users. Even former CEO Yishan Wong stood by this belief, saying "We will not ban questionable subreddits….You choose what to post. You choose what to read. You choose what kind of subreddit to create."
Yet Wong is no longer CEO. That role has fallen in the interim to Ellen K. Pao, who lost a widely-reported gender discrimination lawsuit case in March. She assumed the position in early April, and many Redditors — seeing red as a result of Wednesday's bans — blame her entirely for the policy reversal.
In a statement, the company had this to say:
We will ban subreddits that allow their communities to use the subreddit as a platform to harass individuals when moderators don't take action. We're banning behavior, not ideas.

Today we are removing five subreddits that break our reddit rules based on their harassment of individuals. If a subreddit has been banned for harassment, you will see that in the ban notice.
This is, of course, not necessarily direct from the mouth of Pao, but don't try and convince any Redditors otherwise. That's why supposed user "Billy Johnson" started a petition at Change.org calling for Pao's resignation:
Ellen K. Pao is a lawyer and the chief executive officer of the Internet company Reddit Inc. After Pao lost her gender discrimination case against venture capital firm Kleiner Perkins she was appointed CEO of Reddit Inc and Reddit entered into a new age of censorship. A vast majority of the Reddit community believes that Pao, "a manipulative individual who will sue her way to the top", has overstepped her boundaries and fears that she will run Reddit into the ground. Alternative sites to Reddit.com have sprung up and have received vast amounts of traffic within the recent months.

Action must be taken to prevent Reddit from being further run into the ground.
Johnson doesn't name the "alternative sites" he claims are threatening to run Reddit "into the ground." Tellingly — though not surprisingly — he also immediately connects Pao's leadership at the website to her failed gender discrimination lawsuit. As of this writing, the petition has 6,110 signatures of its 7,500 goal.
[h/t Washington Post and Change.org]
[Image via Shutterstock.com]
— —
>> Follow Andrew Husband (@AndrewHusband) on Twitter
Have a tip we should know? tips@mediaite.com