Remember When It Was Irresponsible for Presidents to Spook Financial Markets?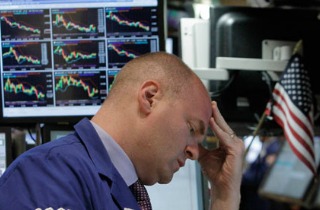 On Wednesday evening, in an exclusive interview with NBC News reporter John Harwood, President Barack Obama warned insufficiently panicky financial markets that they should be afraid. Nearly three days into a government shutdown, and with a perfect storm forming on the horizon in which Congress could head into negotiations over an increase of the debt ceiling in shutdown mode, Obama appeared to find the relative calm of the American stock market vexing.

Some pundits were puzzled by the president's admonition of the financial industry. Why would a President of the United States seek to encourage panic and tumult on Wall Street? A few concluded that this maneuver was for political gain, but most have remained silent. There was a period, however, when conservatives and liberals could agree that spooking the markets for perceived political gain was not the most virtuous tactic.
On the night of September 24, 2008, President George W. Bush addressed the nation about the deepening and expansive financial crisis with which the nation is still coping. His frank address was generally well-received, but a few political commentators saw his inciting distress as unnecessary.
"As a rule, presidents in moments of national crisis aim to reassure a nervous populace," Salon's Andrew Leonard wrote in September, 2008 just days after the stock market collapsed when the House failed to pass the first iteration of the Troubled Assets Relief Program (TARP).
"[T]his was no time to channel the ghost of FDR and tell us that the only thing to fear is fear itself," Leonard continued. "Instead, we were told that we should be fearful, that the 'situation is becoming more precarious by the day' and that 'the market is not functioning properly, there is a widespread loss of confidence and major sectors of American industry are in danger of shutting down.' Yikes."
RELATED: Obama Warns of Financial Tumult: Markets 'Should be Concerned'
But Leonard cannot be faulted for his impression of Bush's address. He was merely taking the media's coverage of the president's speech to a logical conclusion. As The Columbia Journalism Review observed, Bush's address prompted the national media to erupt in a frenzied chorus of hyperventilation over the crisis he was addressing.
"'Our entire economy is in danger,' the president noted, before outlining his proposals for getting us back to economic safety," wrote CJR's Megan Garber in 2008.
Such an admission—in danger, yikes—is highly unusual coming from a sitting U.S. president; when the economy is floundering, we generally expect game-facing and sanguine-making from our public figures despite (and because of) that very floundering.
Garber spent the remainder of her post scolding the front page editors of virtually every major U.S. publication for interpreting Bush's address as an appeal to anxiety.
The melodramatic "danger! danger!" headlines simply aren't faithful to the overall argument of Bush's speech. The ultimate message of last night's address was this: "Our economy is facing a moment of great challenge, but we've overcome tough challenges before, and we will overcome this one." It was not "we are facing a moment of great challenge," the end. It was not "Danger! Danger! Full stop!"
She was right. The media was eager to take Bush's effort to calm the nation — and focus Congress on the task of settling the markets — as an effort to spook the nation. But when Obama engages in an effort explicitly designed to incite a fear, the media is unmoved.
It would be too much to see the national press scold the president for nakedly attempting to rattle financial markets – as justified as that panic may be – merely because it is such a departure from how past presidents conducted themselves. But such an admission might detract from the established narrative which casts Republicans in Congress as the singular villains in the story of this latest government shutdown.
[Photo via AP]
— —
> >Follow Noah Rothman (@NoahCRothman) on Twitter
Have a tip we should know? tips@mediaite.com