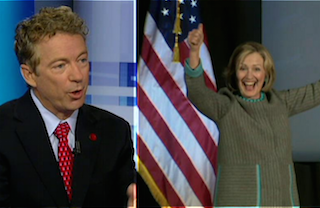 On Midterm Election Night and the days that followed, Sen. Rand Paul (R-KY) has kickstarted his 2016 presidential campaign by declaring this year's Republican victories a referendum on Hillary Clinton.
Of Mitch McConnell's Democratic opponent Alison Lundergan Grimes, Paul said, "She tried to disassociate herself from Obama and attach herself to Hillary Clinton. But it turns out Hillary Clinton doesn't have many coattails in Kentucky." Later, he coined a #HillaryLosers hashtag on social media to highlight Clinton's inability to help elect Democrats in several Senate races.
But according to a new study of polling data — albeit one put together by the pro-Clinton group Correct the Record — Hillary Clinton's presence on the campaign trail actually had major effects in terms of increasing female support for Democrats. In the end, it just wasn't enough to suppress what had turned into a Republican wave.
Correct the Record, which provided the data to Time magazine this week, was able to show that "women's support for Clinton translated to support for the candidates she backed in 2014, despite an overwhelming trend against Democrats in the election."
For instance, though both candidates ended up losing their respective races, Senators Kay Hagan (D-NC) and Mark Udall (D-CO) saw their polling numbers with women jump 3 points from before Clinton campaigned with them to after. Before Clinton's visit, Hagan's support among women was 4 points higher than the general electorate. After her visit, it jumped to 7 points. Similarly for Udall, his numbers went from 4.8 to 8 points.
Clinton's effect on Governor John Hickenlooper (D-CO), who did narrowly win reelection last week, appears to have been even stronger. His support among women nearly tripled — from 4.8 points to 12 points higher than the general electorate — after Clinton campaigned with him.
Similar results were recorded in Georgia, Illinois, Louisiana, Maine, Michigan, Minnesota, New Hampshire, New York and Pennsylvania. Though notably not in Kentucky.
As Time's Jay Newton-Small notes, "Of course, much of this support could simply be women breaking in the final month of the campaign one way or another. It's impossible to say if Clinton was the deciding factor." She adds, "That said, it's clear Clinton didn't have a negative impact on female voters, and her underlying message of women's empowerment could remain a potent one for 2016, should she run, where women are expected to show up in larger numbers at the polls."
Watch Paul hammer his point about Hillary Clinton and the Republican wave home below, via Fox News:
UPDATE — 4:07 p.m. ET: Tim Miller, former RNC spokesperson and executive director of conservative group America Rising PAC, reached out to Mediaite with his objections to the way Correct the Record characterized Hillary Clinton's effect on the 2014 midterm elections. Below is his full statement on the report:
"This manipulation of the data is so strained and absurd that the Clinton Super PAC is really just confirming what everyone knows, Sec. Clinton's candidates were crushed on Tuesday. What's missing from this memo is more telling than what's in it. Only 1 in 3 candidates that she campaigned for won, including those she did favors for who weren't in competitive races. They didn't even try to offer positive spin in places that she focused substantial energy like Arkansas, Iowa, and Kentucky Senate races. Democrats vastly underperformed the women's vote they needed to win in nearly every competitive race, despite Sec. Clinton's aggressive campaign schedule. Their 'war on women' messaging backfired spectacularly in the Colorado Senate race where she campaigned."
[Photo via screengrab]
— —
>> Follow Matt Wilstein (@TheMattWilstein) on Twitter
Have a tip we should know? tips@mediaite.com