Report: Trump Chairman Manafort Helped Pro-Russian Party Route $2.2 Million to US Lobbyists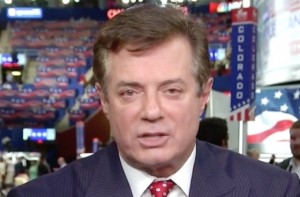 Perhaps this sheds some light on why Donald Trump would so drastically shake up his campaign staff just 82 days before the general election.
According to a report out this morning by the AP, Campaign Chairman Paul Manafort helped pro-Russian effort in Ukraine secretly route $2.2 million to lobbying firms in Washington. The payments were made in 2012, "in a way that effectively obscured the foreign political party's efforts to influence U.S. policy."
The Associated Press' Jeff Horwitz told MSNBC's Morning Joe, "Manafort and his team simultaneously were guiding lobbying efforts in the United States, trying to get decisions changed by the US government on behalf of pro-Russian Ukrainian political parties."
US lobbyists must publicly state whether or not they represent foreign leaders or interests, a very strict federal law that has been on the books since 1938 in an effort to detect propaganda by the Germans during World World II. Failure to do so is punishable by five years in jail and a fine of up to $250,000.
This morning's AP story comes three days after a New York Times report alleged that Manafort was on the receiving end of $12.7 million in undisclosed payments from Ukrainian partners. Although Manafort vociferously denied the allegations, the payment documents were unearthed by the newly-created National Anti-Corruption Bureau of Ukraine.
The timing of the AP's story may indicate why Trump radically shook up his staff this morning, installing Breitbart News' Stephen K. Bannon as campaign CEO and Kellyanne Conway as campaign manager. Although Manafort's title has not been changed, the additions would indicate a demotion of sorts for the embattled Manafort, who took the reigns for the campaign after Corey Lewandowski was fired in June. Lewandowski himself raised eyebrows when he tweeted a direct link to the New York Times article implicating Manafort, though he later denied any effort to denigrate the man who replaced him.
Have a tip we should know? tips@mediaite.com