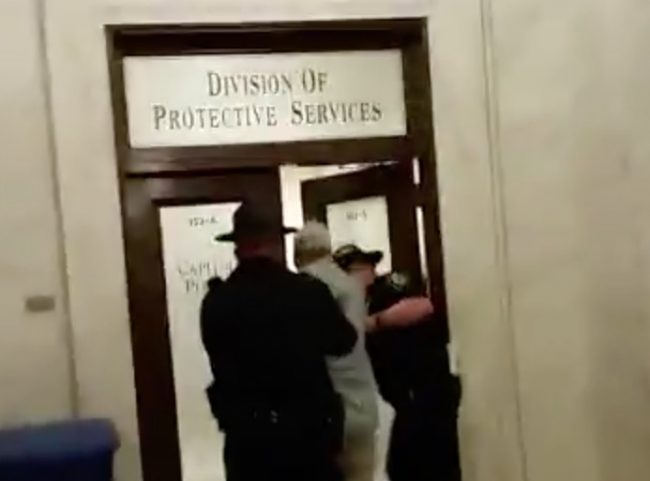 Tom Price is our nation's Secretary of Health and Human Services. At a speech in West Virginia today, he was talking about the opioid epidemic according to Raw Story.
According to a Twitter user who goes by Eric Tegethoff, though, there was another topic to be discussed… sort of. Tegethoff said in a series of tweets that his Public News Service West Virginia colleague Dan Heyman got arrested for trying to ask Price about the American Health Care Act, which recently passed in the House.
Here is a piece by a Dan Heyman over at PNSWV and it's even about the AHCA, so the story tracks so far.
Let's look at the evidence!
My colleague Dan Heyman @PNS_WV was arrested today for trying to ask Tom Price questions about the Republican health-care bill. 1/3

— Eric Tegethoff (@EricTegethoff) May 9, 2017
Price is an architect and booster of AHCA, so it seems fair for a reporter to get answers on questions Americans are most concerned about2/3

— Eric Tegethoff (@EricTegethoff) May 9, 2017
A video of the arrest, shot by Valerie Woody with the West Virginia Citizens Action Group. 3/3 pic.twitter.com/Q1bOSotNEe

— Eric Tegethoff (@EricTegethoff) May 9, 2017
The video of the alleged arrest was taken, per Tegethoff, by Valerie Woody of the West Virginia Citizens Action Group. We reached out to her via WVCAG and will update with her comments.
We've also reached out to Tegethoff and will update with his comments, too.
UPDATE — 11:29 a.m. EST:
We haven't heard back on our requests for comment, but we have seen that reaction to this is growing stronger online.
The ACLU is weighing in, for instance.
Here's @ACLU_WV 's full statement on the arrest of a reporter for asking HHS Secretary Price about the health care bill. pic.twitter.com/TURx91BOzA

— ACLU National (@ACLU) May 10, 2017
We will update more as the situation progresses.
[image: screengrab]
Have a tip we should know? tips@mediaite.com